Available Specials
There are no specials currently available for booking. Please check back soon for special offers and
sign up for our email newsletter
[2]
to receive occasional emails with new specials.
AMENITY
king
shower
sleep sofa /futon
toilet
Stylish Downtown Lofts Minutes Away from River St. by Lucky Savannah
Unit Code: PRKR4B
Collections
Luxury Properties
The Parker Collection
GENERAL
Air Conditioning
Clothes Dryer
Hair Dryer
Heating
Internet
Iron & Board
Linens Provided
Living Room
Towels Provided
Washing Machine
SUITABILITY
non smoking only
pets not allowed
Leave a Review
[3]
31401
Savannah
,
GA
United States
32° 4' 32.1456" N, 81° 5' 29.778" W
Georgia US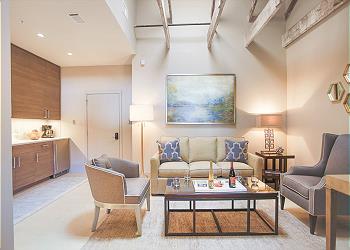 [5]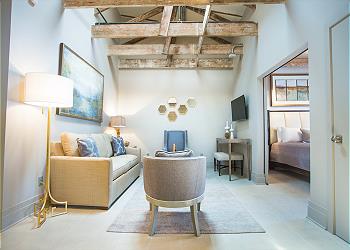 [6]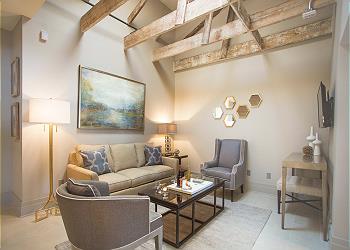 [7]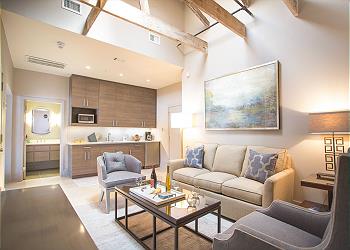 [8]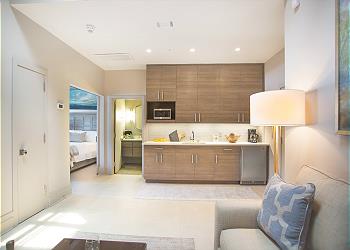 [9]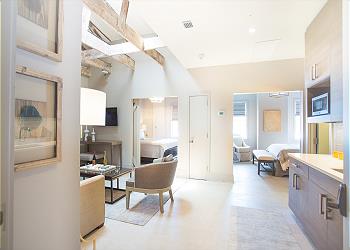 [10]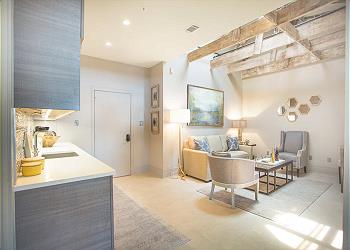 [11]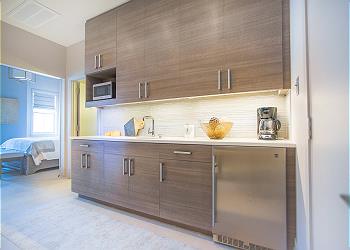 [12]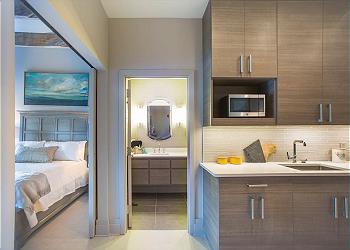 [13]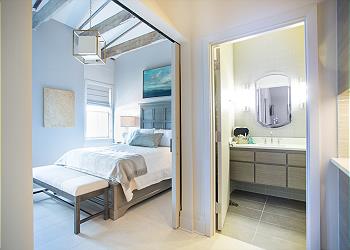 [14]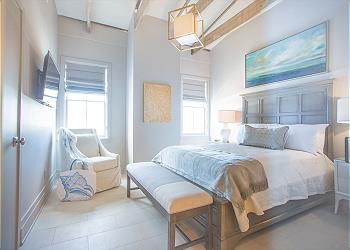 [15]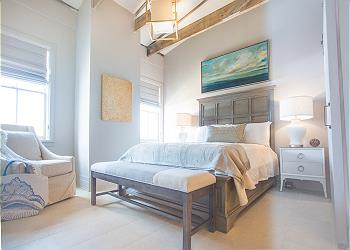 [16]
[17]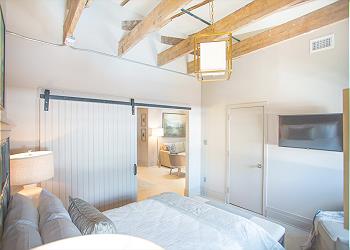 [18]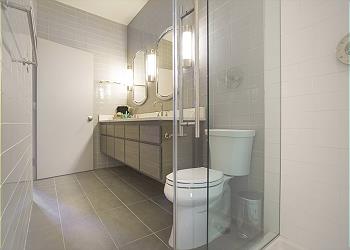 [19]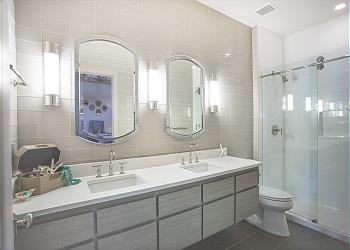 [20]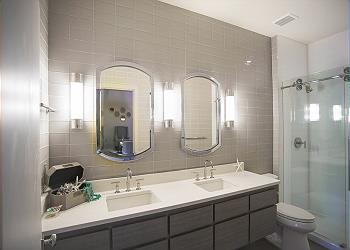 [21]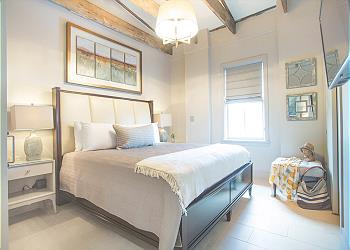 [22]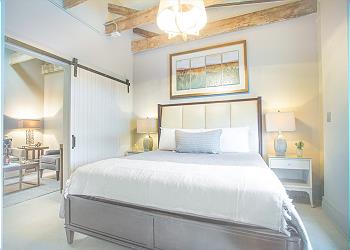 [23]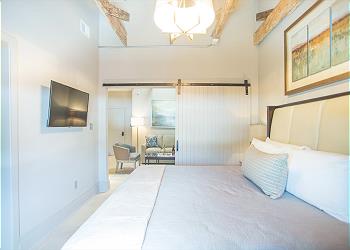 [24]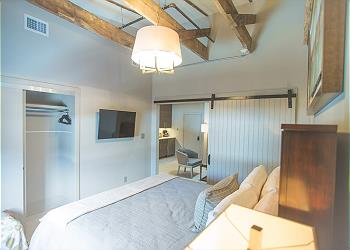 [25]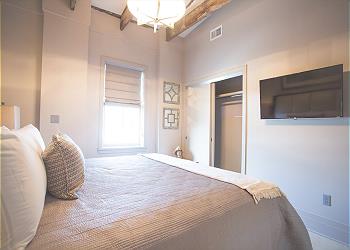 [26]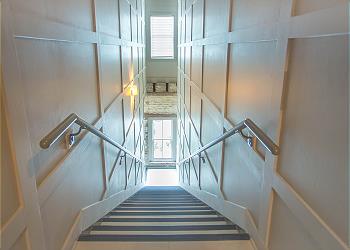 [27]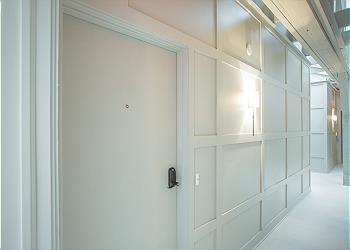 [28]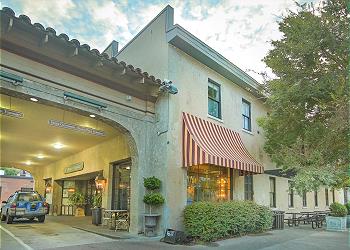 [29]
4 Bedrooms
2 Baths
This serene oasis is located in the heart of Savannah's historic district, just steps away from Savannah's shopping and nightlife. These beautifully renovated apartments are located behind Parker's Market Urban Gourmet. Known as "Fancy Parkers" to locals, a quick trip will provide you with everything from fresh flowers to a three course meal, complete with dessert (try their Tiramisu!).
Each of the bedrooms here has a personal television, both furnished with King size beds. A comfortable living space with designer furniture and lofted ceilings separates the two bedrooms, providing privacy. Brew your first cup of coffee in the convenient kitchenette, or venture over to local favorite Gallery Espresso for a gourmet brew.
You'll be a short walk from local shops like The Book Lady Bookstore, and historic points of interest like the Sorrel-Weed House. A quick trip back to your own Savannah apartment and you'll be ready for a night on the town. Start with dinner at the Six Pence Pub, a British-style ale house complete with a red telephone booth, and end with karaoke at McDonough's.
Sleeping Configuration:
(1) 2-bedroom unit:
Bedroom 1: King Bed
Bedroom 2: King Bed
Living Room: Queen Sleeper Sofa
(1) 2-bedroom unit:
Bedroom 1: King Bed
Bedroom 2: King Bed
Living Room: Queen Sleeper Sofa
Dates
Price
04/09/20 - 04/12/20

$536

/nt

04/13/20 - 04/15/20

$328

/nt

04/13/20 - 04/15/20

$328

/nt

04/16/20 - 04/19/20

$582

/nt

04/20/20 - 04/22/20

$256

/nt

04/20/20 - 04/22/20

$256

/nt

04/23/20 - 04/26/20

$560

/nt

04/27/20 - 04/29/20

$228

/nt

04/27/20 - 04/29/20

$228

/nt

04/30/20 - 05/03/20

$516

/nt

05/04/20 - 05/06/20

$228

/nt

05/04/20 - 05/06/20

$228

/nt

05/07/20 - 05/10/20

$516

/nt

05/11/20 - 05/13/20

$228

/nt

05/11/20 - 05/13/20

$228

/nt

05/14/20 - 05/17/20

$516

/nt

05/18/20 - 05/20/20

$228

/nt

05/18/20 - 05/20/20

$228

/nt

05/21/20 - 05/24/20

$670

/nt

05/25/20 - 05/27/20

$408

/nt

05/25/20 - 05/27/20

$408

/nt

05/28/20 - 05/31/20

$604

/nt

06/01/20 - 06/03/20

$288

/nt

06/01/20 - 06/03/20

$288

/nt

06/04/20 - 06/07/20

$494

/nt

06/08/20 - 06/10/20

$308

/nt

06/08/20 - 06/10/20

$308

/nt

06/11/20 - 06/14/20

$472

/nt

06/15/20 - 06/17/20

$288

/nt

06/15/20 - 06/17/20

$288

/nt

06/18/20 - 06/21/20

$471

/nt

06/22/20 - 06/24/20

$288

/nt

06/22/20 - 06/24/20

$288

/nt

06/25/20 - 06/28/20

$471

/nt

06/29/20 - 07/01/20

$383

/nt

06/29/20 - 07/01/20

$383

/nt

07/02/20 - 07/05/20

$538

/nt

07/06/20 - 07/08/20

$339

/nt

07/06/20 - 07/08/20

$339

/nt

07/09/20 - 07/12/20

$516

/nt

07/13/20 - 07/15/20

$334

/nt

07/13/20 - 07/15/20

$334

/nt

07/16/20 - 07/19/20

$516

/nt

07/20/20 - 07/22/20

$339

/nt

07/20/20 - 07/22/20

$339

/nt

07/23/20 - 07/26/20

$516

/nt

07/27/20 - 07/29/20

$270

/nt

07/27/20 - 07/29/20

$270

/nt

07/30/20 - 08/02/20

$414

/nt

08/03/20 - 08/05/20

$297

/nt

08/03/20 - 08/05/20

$297

/nt

08/06/20 - 08/09/20

$424

/nt

08/10/20 - 08/12/20

$297

/nt

08/10/20 - 08/12/20

$297

/nt

08/13/20 - 08/16/20

$404

/nt

08/17/20 - 08/19/20

$338

/nt

08/17/20 - 08/19/20

$338

/nt

08/20/20 - 08/23/20

$404

/nt

08/24/20 - 08/26/20

$338

/nt

08/24/20 - 08/26/20

$338

/nt

08/27/20 - 08/30/20

$404

/nt

08/31/20 - 09/02/20

$338

/nt

08/31/20 - 09/02/20

$338

/nt

09/03/20 - 09/06/20

$586

/nt

09/07/20 - 09/09/20

$297

/nt

09/07/20 - 09/09/20

$297

/nt

09/10/20 - 09/13/20

$490

/nt

09/14/20 - 09/16/20

$297

/nt

09/14/20 - 09/16/20

$297

/nt

09/17/20 - 09/20/20

$490

/nt

09/21/20 - 09/23/20

$290

/nt

09/21/20 - 09/23/20

$290

/nt

09/24/20 - 09/27/20

$368

/nt

09/28/20 - 09/30/20

$380

/nt

09/28/20 - 09/30/20

$380

/nt

10/01/20 - 10/04/20

$538

/nt

10/05/20 - 10/07/20

$370

/nt

10/05/20 - 10/07/20

$370

/nt

10/08/20 - 10/11/20

$634

/nt

10/12/20 - 10/14/20

$370

/nt

10/12/20 - 10/14/20

$370

/nt

10/15/20 - 10/18/20

$586

/nt

10/19/20 - 10/21/20

$370

/nt

10/19/20 - 10/21/20

$370

/nt

10/22/20 - 10/25/20

$586

/nt

10/26/20 - 10/28/20

$248

/nt

10/26/20 - 10/28/20

$248

/nt

10/29/20 - 11/01/20

$586

/nt

11/02/20 - 11/04/20

$248

/nt

11/02/20 - 11/04/20

$248

/nt

11/05/20 - 11/08/20

$778

/nt

11/09/20 - 11/11/20

$248

/nt

11/09/20 - 11/11/20

$248

/nt

11/12/20 - 11/15/20

$584

/nt

11/16/20 - 11/18/20

$248

/nt

11/16/20 - 11/18/20

$248

/nt

11/19/20 - 11/22/20

$538

/nt

11/23/20 - 11/25/20

$364

/nt

11/23/20 - 11/25/20

$364

/nt

11/26/20 - 11/29/20

$494

/nt

11/30/20 - 12/02/20

$290

/nt

11/30/20 - 12/02/20

$290

/nt

12/03/20 - 12/06/20

$296

/nt

12/07/20 - 12/09/20

$250

/nt

12/07/20 - 12/09/20

$250

/nt

12/10/20 - 12/13/20

$318

/nt

12/14/20 - 12/16/20

$228

/nt

12/14/20 - 12/16/20

$228

/nt

12/17/20 - 12/20/20

$360

/nt

12/21/20 - 12/23/20

$276

/nt

12/21/20 - 12/23/20

$276

/nt

12/24/20 - 12/27/20

$538

/nt

12/28/20 - 12/30/20

$368

/nt

12/28/20 - 12/30/20

$368

/nt

12/31/20 - 01/03/21

$580

/nt

01/04/21 - 01/06/21

$248

/nt

01/04/21 - 01/06/21

$248

/nt

01/07/21 - 01/10/21

$360

/nt

01/11/21 - 01/13/21

$248

/nt

01/11/21 - 01/13/21

$248

/nt

01/14/21 - 01/17/21

$404

/nt