Available Specials
There are no specials currently available for booking. Please check back soon for special offers and
sign up for our email newsletter
[2]
to receive occasional emails with new specials.
AMENITY
double
queen
shower
sleep sofa /futon
toilet
Beds
Queen 1
Sofa Bed 1
Full 1
Flexible Refund Polices: Charming Second Story Victorian Apartment!
Unit Code: MONTGOM2
GENERAL
Air Conditioning
Clothes Dryer
Hair Dryer
Heating
Internet
Iron & Board
Linens Provided
Living Room
Towels Provided
Washing Machine
SUITABILITY
non smoking only
pets not allowed
Leave a Review
[3]
31401
Savannah
,
GA
United States
32° 4' 2.8488" N, 81° 6' 4.2264" W
Georgia US
[5]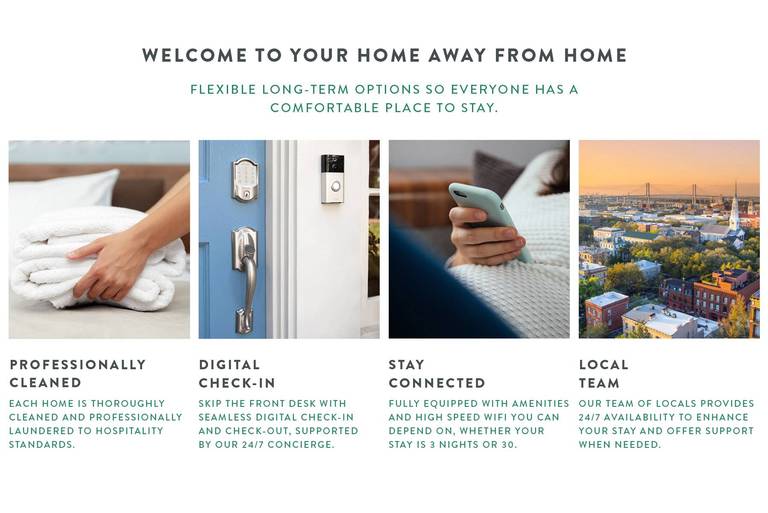 [6]
[7]
[8]
[9]
[10]
[11]
[12]
[13]
[14]
[15]
[16]
[17]
[18]
[19]
[20]
[21]
[22]
[23]
[24]
[25]
[26]
[27]
[28]
[29]
[30]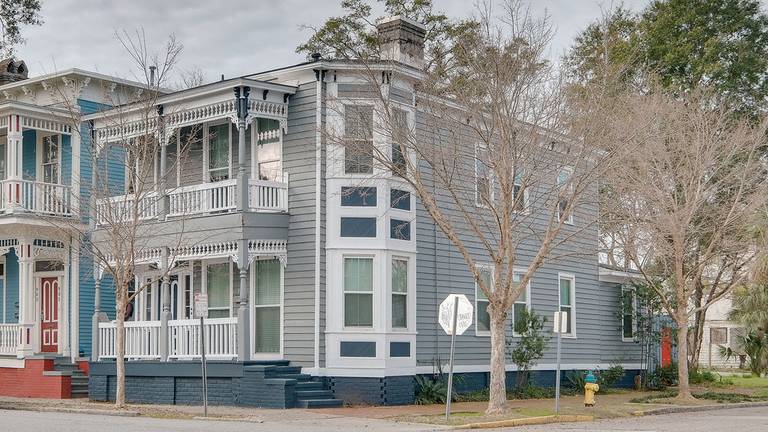 [31]
[32]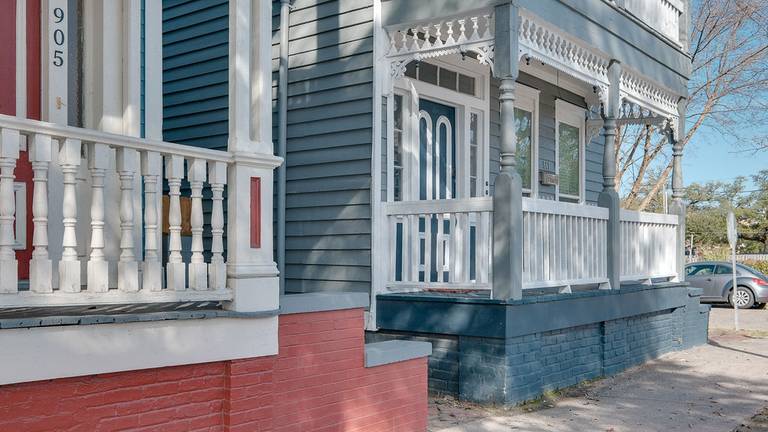 [33]
[34]
[35]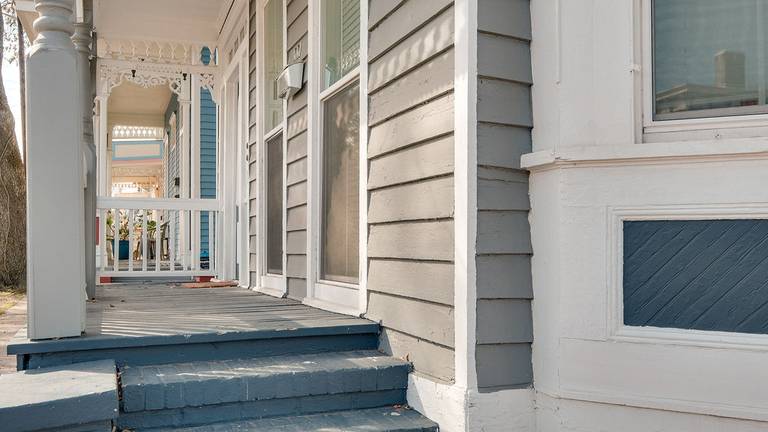 [36]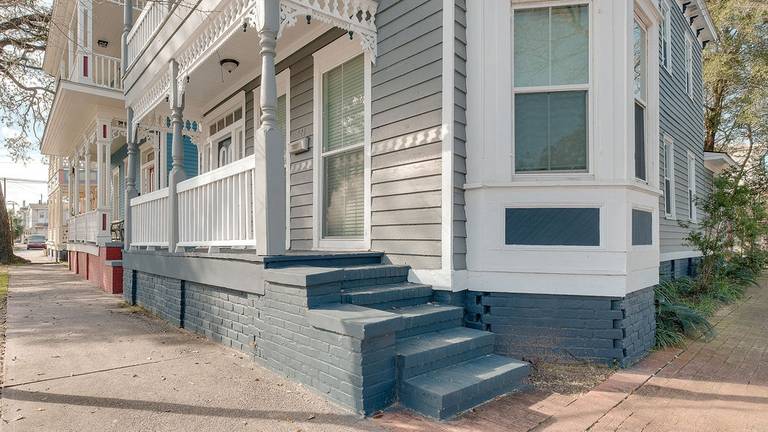 [37]
2 Bedrooms
1 Bath
This conveniently located two bedroom, one bath recently renovated flat is conveniently located three blocks from Forsyth Park, walking distance to downtown attractions, and easy access to I-16. Parade routes and race routes are as close as 1-4 blocks depending on the event. This apartment has a large master bedroom with sitting area, living room with plenty of seating, and a kitchen with plenty of space for cooking. You can rest and relax or go a few blocks to be a part of the action offered in historic downtown Savannah.
This second floor, two bedroom, one bath unit is located in the sought after Victorian District, mere blocks from Forsyth Park. High ceilings, hardwood floors and original fireplaces adorn the space with all the character and charm you'd expect to see in a Victorian mansion. Yet modern amenities abound with everything from central heat and air condition, tv and wifi so you can stay up to date on all your favorite streaming shows. The contemporary kitchen features all the basics while on vacation including a dishwasher and the in-unit washer and dryer makes laundry a breeze.
The master bedroom features a queen bed, morning sun and seating area to relax and read. The second bedroom has a full sized bed and is located toward the back of the property for a quiet night's sleep. Both bedrooms are richly decorated, have large closets for hanging clothes and luggage racks.
The property is only three blocks from Forsyth Park which is one of Savannah's largest and most active. Forsyth is over 30 acres of greenspace, walking paths and the beautiful moss draped live oak trees Savannah is known for. Around the park you'll find boutiques, coffee shops and even an organic grocery. If you happen to be visiting on the weekend, Forsyth hosts the local farmer's market every Saturday morning and sometimes there's even a concert in the bandshell.
What is parking like for this home?
The Victorian Montgomery House has plenty of free street parking and the city offers a free shuttle from Forsyth to downtown Savannah every 10 minutes. It's easy to leave your car at the house and explore all that Savannah has to offer!
Sleeping Configurations:
Bedroom 1: Queen Bed
Bedroom 2: Full Bed
Living Room: Queen Sleeper Sofa
SVR-01754
Dates
Price
11/26/20 - 11/29/20

$244

/nt

11/30/20 - 12/02/20

$110

/nt

11/30/20 - 12/02/20

$110

/nt

12/03/20 - 12/06/20

$124

/nt

12/07/20 - 12/09/20

$104

/nt

12/07/20 - 12/09/20

$104

/nt

12/10/20 - 12/13/20

$144

/nt

12/14/20 - 12/16/20

$104

/nt

12/14/20 - 12/16/20

$104

/nt

12/17/20 - 12/20/20

$144

/nt

12/21/20 - 12/23/20

$144

/nt

12/21/20 - 12/23/20

$144

/nt

12/24/20 - 12/27/20

$224

/nt

12/28/20 - 12/30/20

$214

/nt

12/28/20 - 12/30/20

$214

/nt

12/31/20 - 01/03/21

$244

/nt

01/04/21 - 01/06/21

$124

/nt

01/04/21 - 01/06/21

$124

/nt

01/07/21 - 01/10/21

$144

/nt

01/11/21 - 01/13/21

$114

/nt

01/11/21 - 01/13/21

$114

/nt

01/14/21 - 01/17/21

$164

/nt

01/18/21 - 01/20/21

$114

/nt

01/18/21 - 01/20/21

$114

/nt

01/21/21 - 01/24/21

$134

/nt

01/25/21 - 01/27/21

$114

/nt

01/25/21 - 01/27/21

$114

/nt

01/28/21 - 01/31/21

$134

/nt

02/01/21 - 02/03/21

$114

/nt

02/01/21 - 02/03/21

$114

/nt

02/04/21 - 02/07/21

$164

/nt

02/08/21 - 02/10/21

$114

/nt

02/08/21 - 02/10/21

$114

/nt

02/11/21 - 02/14/21

$244

/nt

02/15/21 - 02/17/21

$132

/nt

02/15/21 - 02/17/21

$132

/nt

02/18/21 - 02/21/21

$164

/nt

02/22/21 - 02/24/21

$141

/nt

02/22/21 - 02/24/21

$141

/nt

02/25/21 - 02/28/21

$164

/nt

03/01/21 - 03/03/21

$124

/nt

03/01/21 - 03/03/21

$124

/nt

03/04/21 - 03/07/21

$204

/nt

03/08/21 - 03/10/21

$144

/nt

03/08/21 - 03/10/21

$144

/nt

03/11/21 - 03/14/21

$244

/nt

03/15/21 - 03/17/21

$544

/nt

03/15/21 - 03/17/21

$544

/nt

03/18/21 - 03/21/21

$544

/nt

03/22/21 - 03/24/21

$144

/nt

03/22/21 - 03/24/21

$144

/nt

03/25/21 - 03/28/21

$264

/nt

03/29/21 - 03/31/21

$144

/nt

03/29/21 - 03/31/21

$144

/nt

04/01/21 - 04/04/21

$284

/nt

04/05/21 - 04/07/21

$144

/nt

04/05/21 - 04/07/21

$144

/nt

04/08/21 - 04/11/21

$224

/nt

04/12/21 - 04/14/21

$148

/nt

04/12/21 - 04/14/21

$148

/nt

04/15/21 - 04/18/21

$244

/nt

04/19/21 - 04/21/21

$148

/nt

04/19/21 - 04/21/21

$148

/nt

04/22/21 - 04/25/21

$244

/nt

04/26/21 - 04/28/21

$125

/nt

04/26/21 - 04/28/21

$125

/nt

04/29/21 - 05/02/21

$244

/nt

05/03/21 - 05/05/21

$127

/nt

05/03/21 - 05/05/21

$127

/nt

05/06/21 - 05/09/21

$244

/nt

05/10/21 - 05/12/21

$127

/nt

05/10/21 - 05/12/21

$127

/nt

05/13/21 - 05/16/21

$244

/nt

05/17/21 - 05/19/21

$144

/nt

05/17/21 - 05/19/21

$144

/nt

05/20/21 - 05/23/21

$284

/nt

05/24/21 - 05/26/21

$184

/nt

05/24/21 - 05/26/21

$184

/nt

05/27/21 - 05/30/21

$284

/nt

05/31/21 - 06/02/21

$184

/nt

05/31/21 - 06/02/21

$184

/nt

06/03/21 - 06/06/21

$244

/nt

06/07/21 - 06/09/21

$114

/nt

06/07/21 - 06/09/21

$114

/nt

06/10/21 - 06/13/21

$144

/nt

06/14/21 - 06/16/21

$114

/nt

06/14/21 - 06/16/21

$114

/nt

06/17/21 - 06/20/21

$144

/nt

06/21/21 - 06/23/21

$124

/nt

06/21/21 - 06/23/21

$124

/nt

06/24/21 - 06/27/21

$144

/nt

06/28/21 - 06/30/21

$124

/nt

06/28/21 - 06/30/21

$124

/nt

07/01/21 - 07/04/21

$204

/nt

07/05/21 - 07/07/21

$131

/nt

07/05/21 - 07/07/21

$131

/nt

07/08/21 - 07/11/21

$144

/nt

07/12/21 - 07/14/21

$131

/nt

07/12/21 - 07/14/21

$131

/nt

07/15/21 - 07/18/21

$144

/nt

07/19/21 - 07/21/21

$131

/nt

07/19/21 - 07/21/21

$131

/nt

07/22/21 - 07/25/21

$144

/nt

07/26/21 - 07/28/21

$115

/nt

07/26/21 - 07/28/21

$115

/nt

07/29/21 - 08/01/21

$144

/nt

08/02/21 - 08/04/21

$114

/nt

08/02/21 - 08/04/21

$114

/nt

08/05/21 - 08/08/21

$144

/nt

08/09/21 - 08/11/21

$114

/nt

08/09/21 - 08/11/21

$114

/nt

08/12/21 - 08/15/21

$144

/nt

08/16/21 - 08/18/21

$115

/nt

08/16/21 - 08/18/21

$115

/nt

08/19/21 - 08/22/21

$144

/nt

08/23/21 - 08/25/21

$115

/nt

08/23/21 - 08/25/21

$115

/nt

08/26/21 - 08/29/21

$144

/nt

08/30/21 - 09/01/21

$115

/nt

08/30/21 - 09/01/21

$115

/nt

09/02/21 - 09/05/21

$184

/nt

09/06/21 - 09/08/21

$144

/nt

09/06/21 - 09/08/21

$144

/nt

09/09/21 - 09/12/21

$164

/nt

09/13/21 - 09/15/21

$114

/nt

09/13/21 - 09/15/21

$114

/nt

09/16/21 - 09/19/21

$164

/nt

09/20/21 - 09/22/21

$114

/nt

09/20/21 - 09/22/21

$114

/nt

09/23/21 - 09/26/21

$164

/nt

09/27/21 - 09/29/21

$124

/nt

09/27/21 - 09/29/21

$124

/nt

09/30/21 - 10/03/21

$184

/nt

10/04/21 - 10/06/21

$124

/nt

10/04/21 - 10/06/21

$124

/nt

10/07/21 - 10/10/21

$184

/nt

10/11/21 - 10/13/21

$118

/nt

10/11/21 - 10/13/21

$118

/nt

10/14/21 - 10/17/21

$184

/nt

10/18/21 - 10/20/21

$118

/nt

10/18/21 - 10/20/21

$118

/nt

10/21/21 - 10/24/21

$184

/nt

10/25/21 - 10/27/21

$118

/nt

10/25/21 - 10/27/21

$118

/nt

10/28/21 - 10/31/21

$184

/nt

11/01/21 - 11/03/21

$118

/nt

11/01/21 - 11/03/21

$118

/nt

11/04/21 - 11/07/21

$244

/nt

11/08/21 - 11/10/21

$108

/nt

11/08/21 - 11/10/21

$108

/nt

11/11/21 - 11/14/21

$184

/nt

11/15/21 - 11/17/21

$118

/nt

11/15/21 - 11/17/21

$118

/nt