Available Specials
There are no specials currently available for booking. Please check back soon for special offers and
sign up for our email newsletter
[2]
to receive occasional emails with new specials.
Quiet Renovated Apartment Close to Forsyth with Parking by Lucky Savannah
Unit Code: LORCH2
GENERAL
Air Conditioning
Clothes Dryer
Hair Dryer
Heating
Internet
Iron & Board
Linens Provided
Living Room
Parking
Towels Provided
Washing Machine
SUITABILITY
non smoking only
pets not allowed
Leave a Review
[3]
Great place to stay near Forsyth Park
Reviewed on 2020-06-27 by JoBeth N. from United States
Updated on 2020-06-27
Services from rental manager
Cleanliness
Location
Property condition
What a great unit... love the porch, very spacious living room, super comfy beds. Would love to stay again, close to Forsyth park.. easy walk to River Street
Perfect spot for our stay in Savannah!
Reviewed on 2020-06-23 by Bobby G. from United States
Updated on 2020-06-23
Services from rental manager
Cleanliness
Location
Property condition
Lorch porch was perfect for our stay in downtown Savannah. The unit was spacious and clean. The balcony was perfect for morning coffee and evening drinks. Less than 5 min walk to beautiful Forsyth park for a nice run or walk. Looking forward to coming back to Savannah again soon!
31401
Savannah
,
GA
United States
32° 4' 10.5024" N, 81° 5' 59.9856" W
Georgia US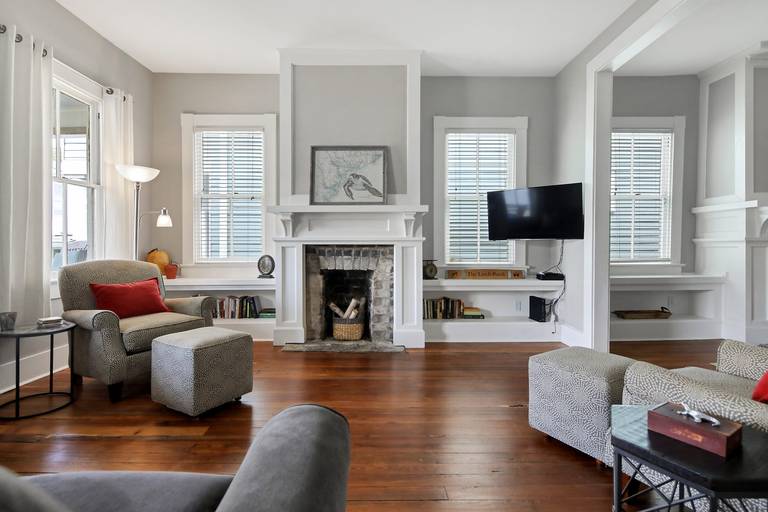 [5]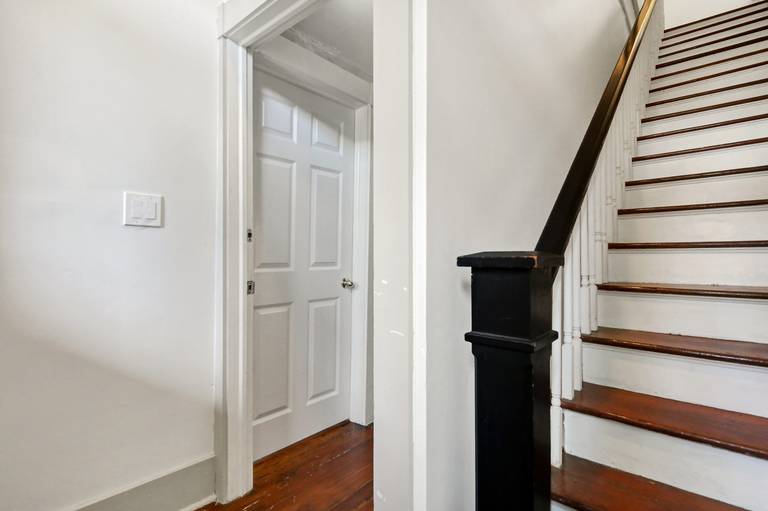 [6]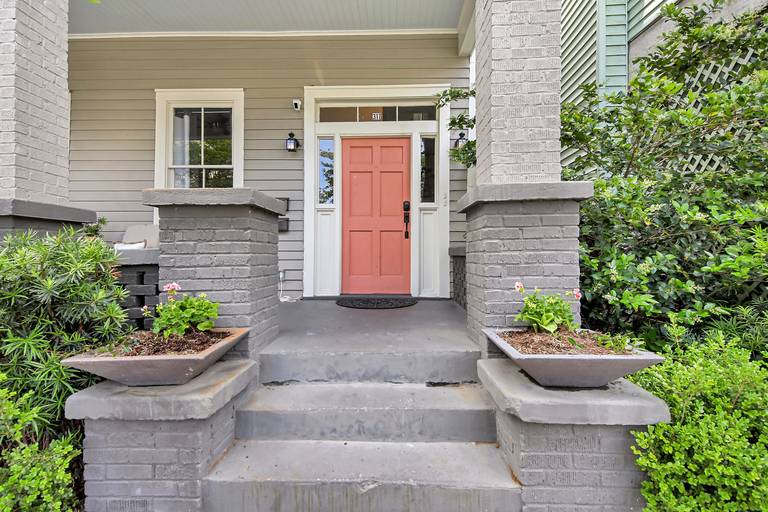 [7]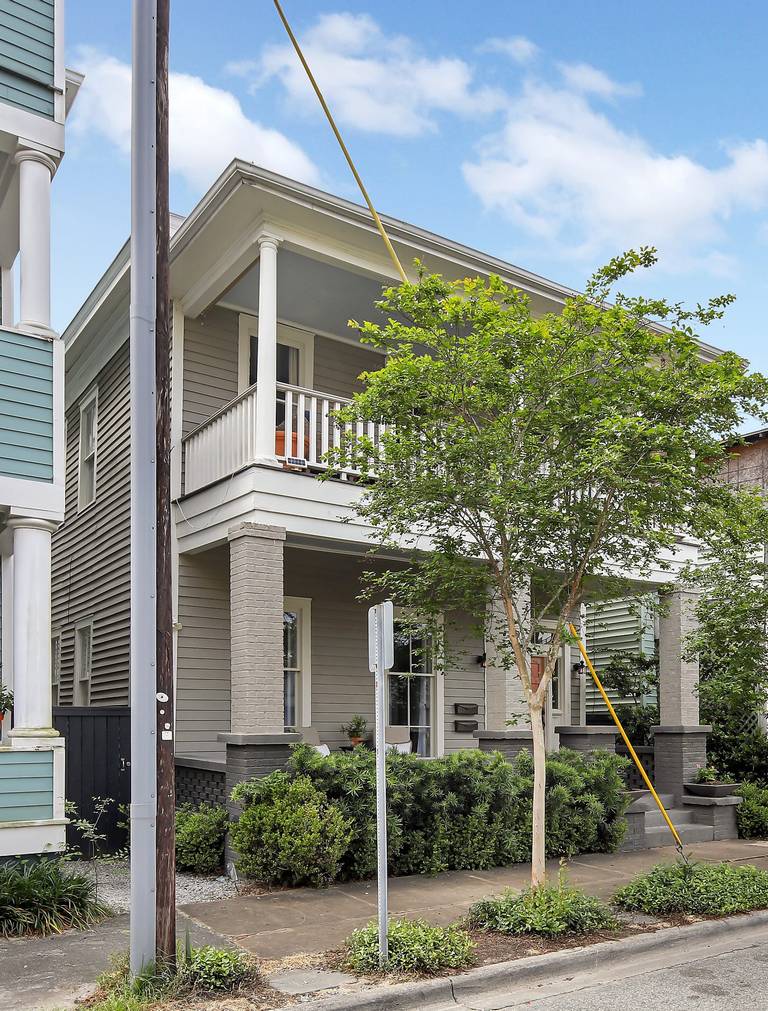 [8]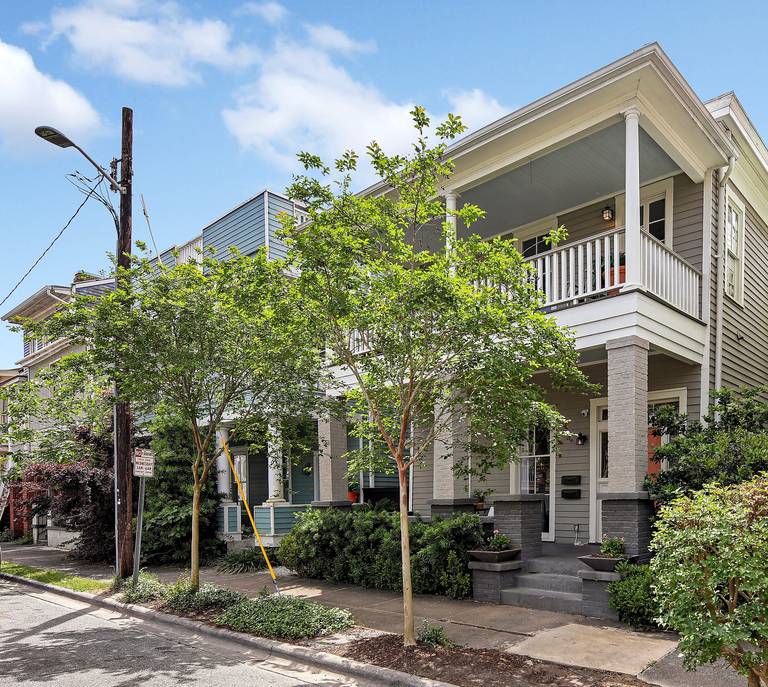 [9]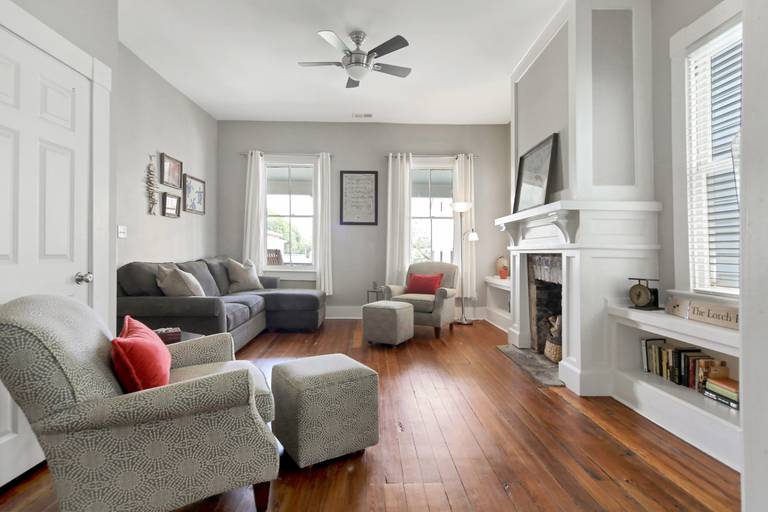 [10]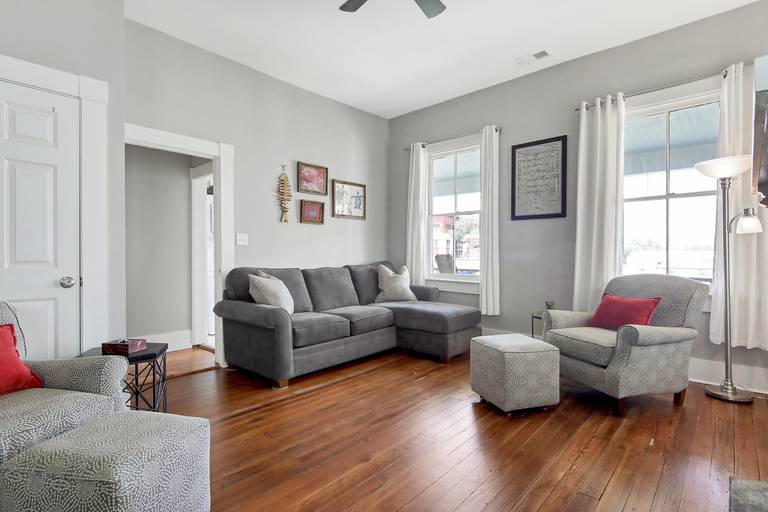 [11]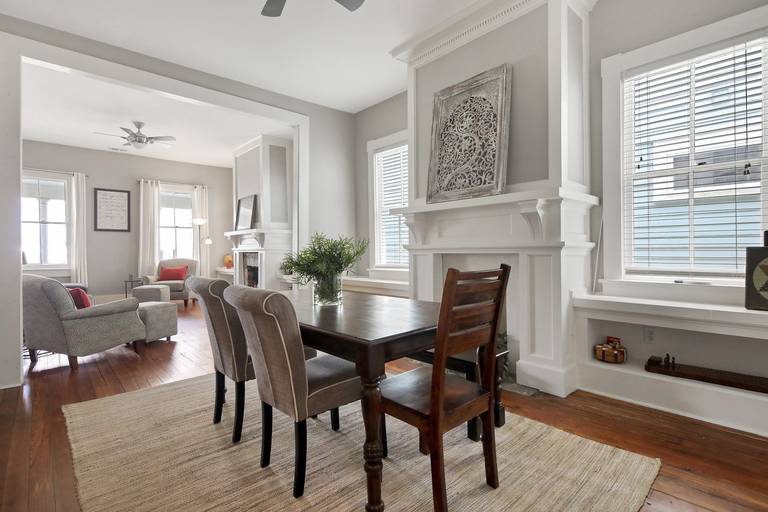 [12]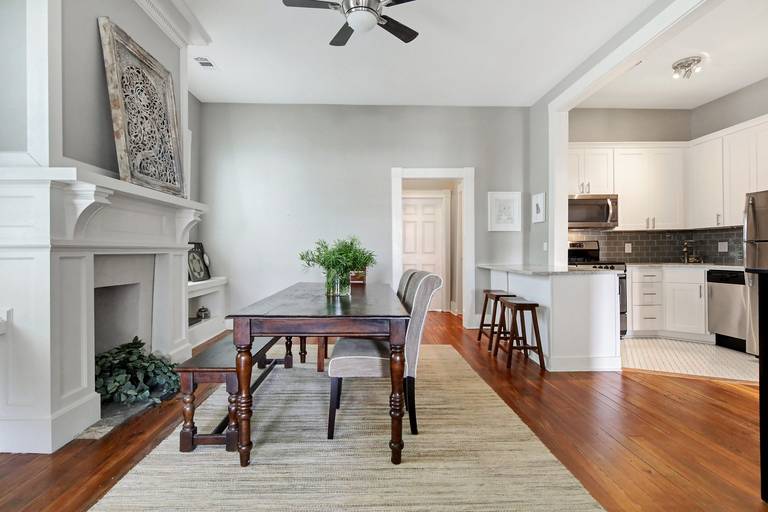 [13]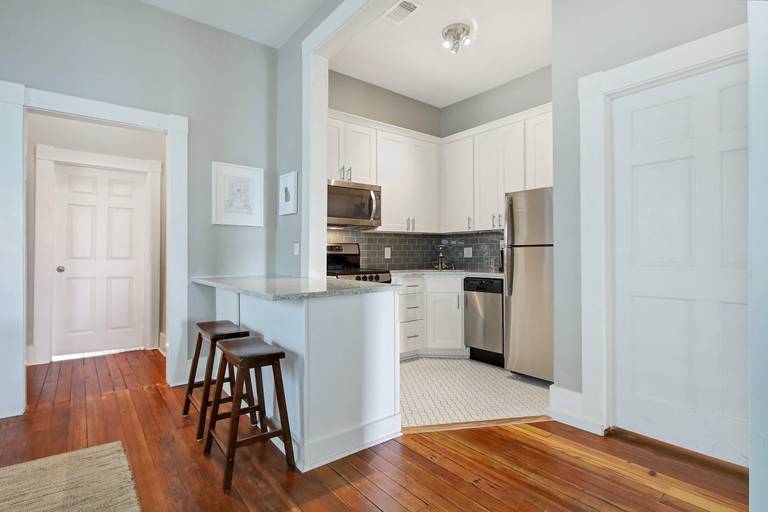 [14]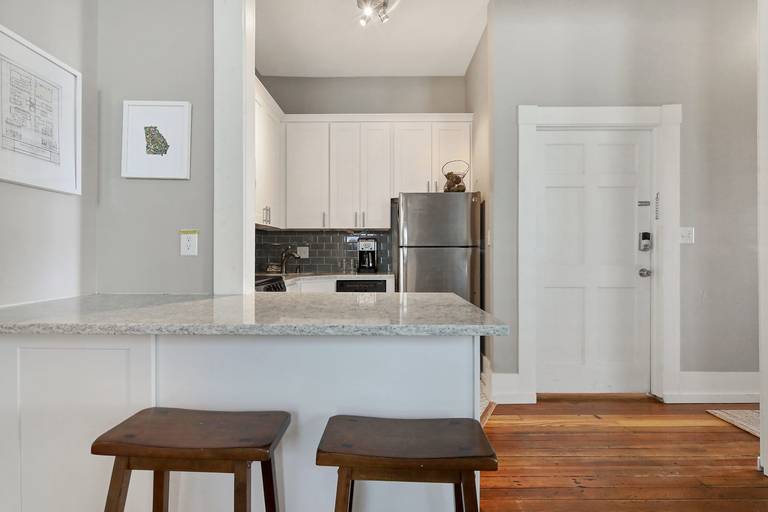 [15]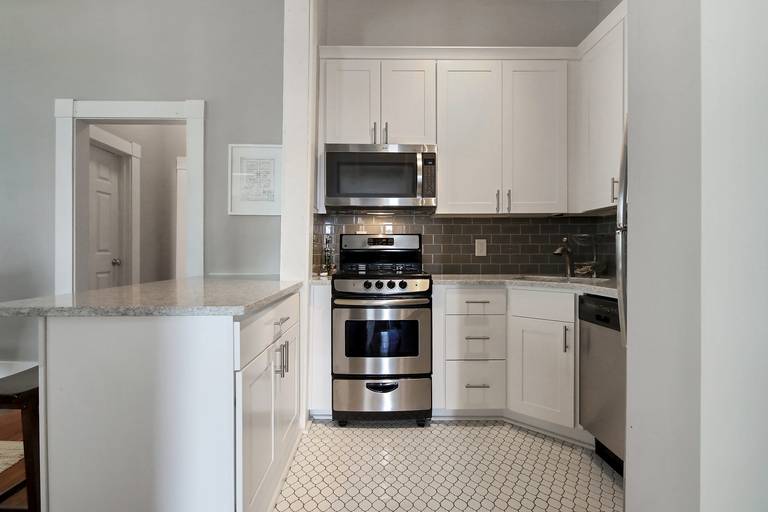 [16]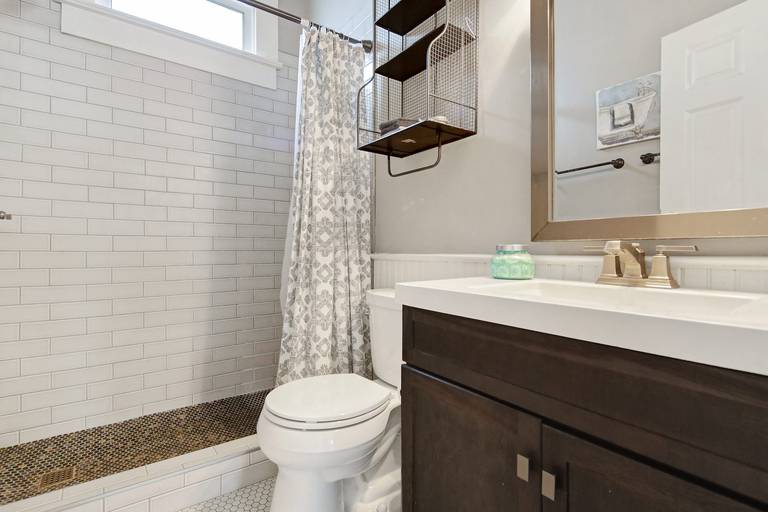 [17]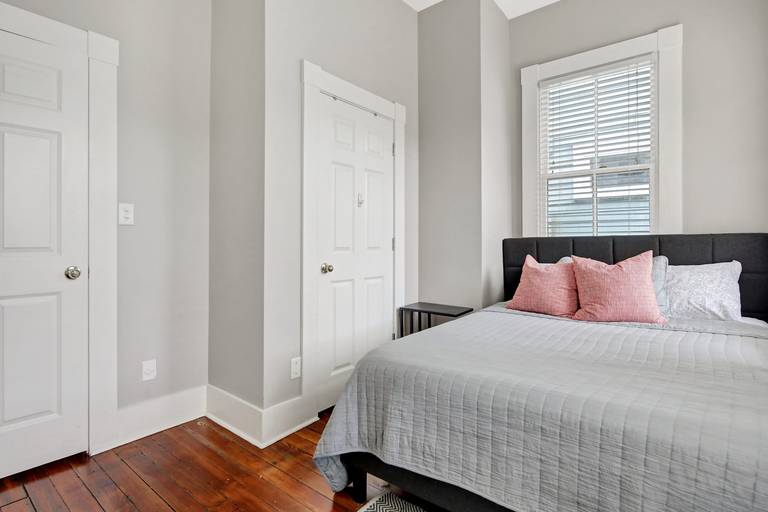 [18]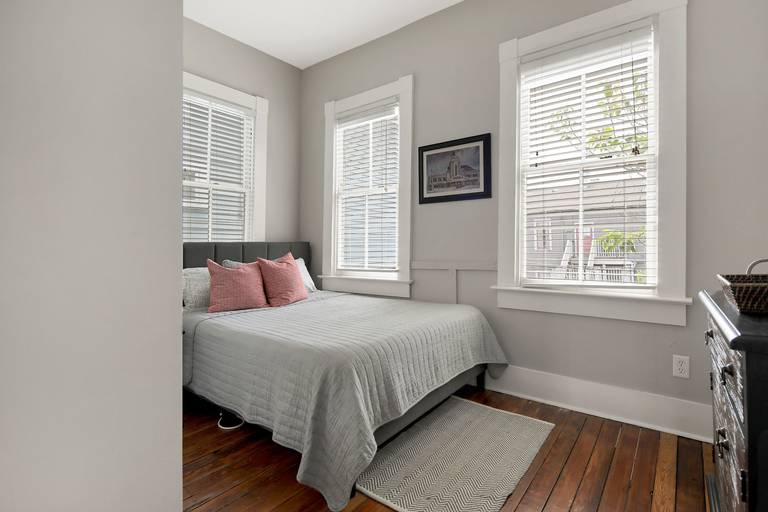 [19]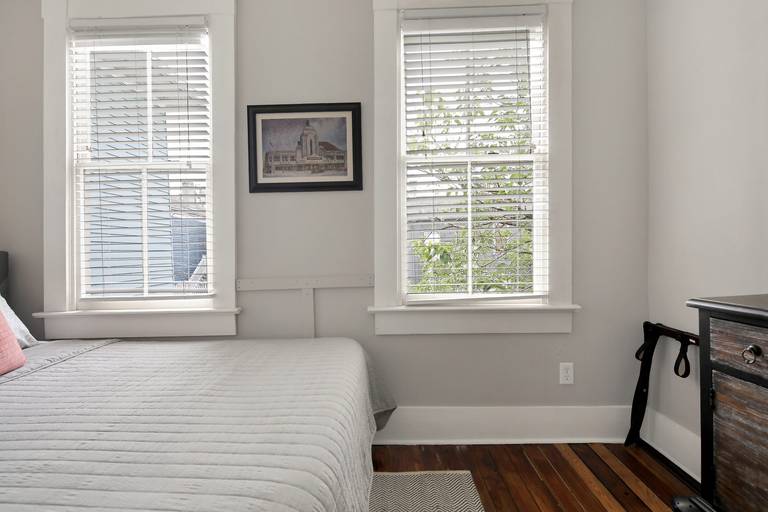 [20]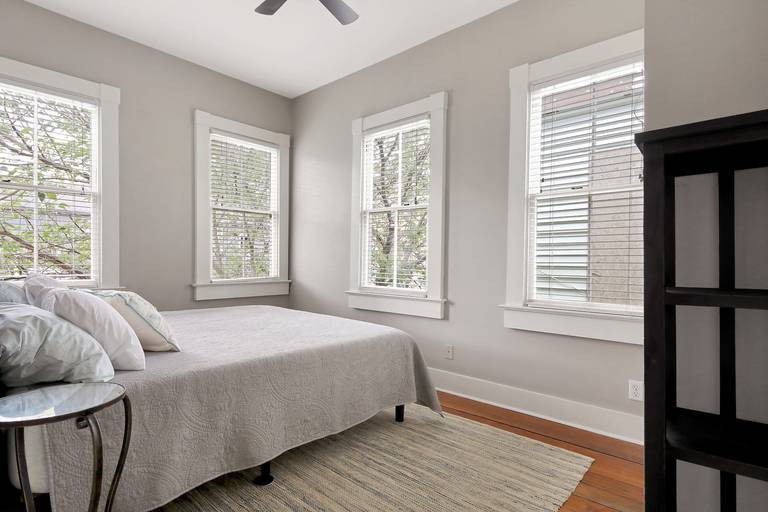 [21]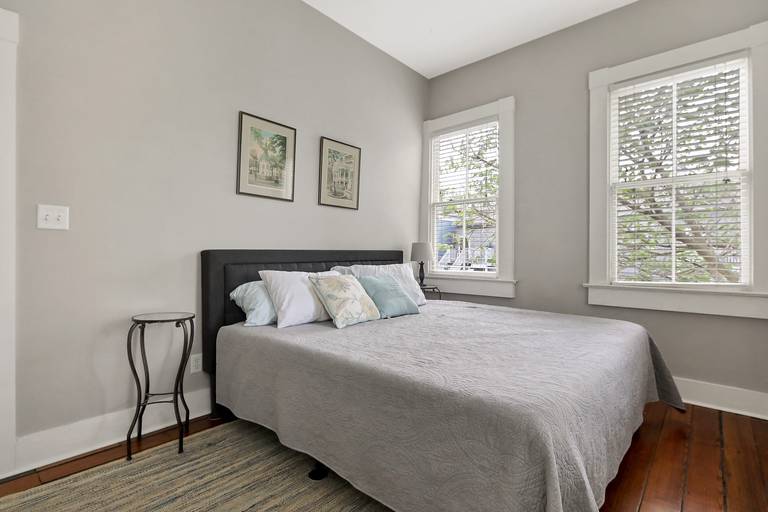 [22]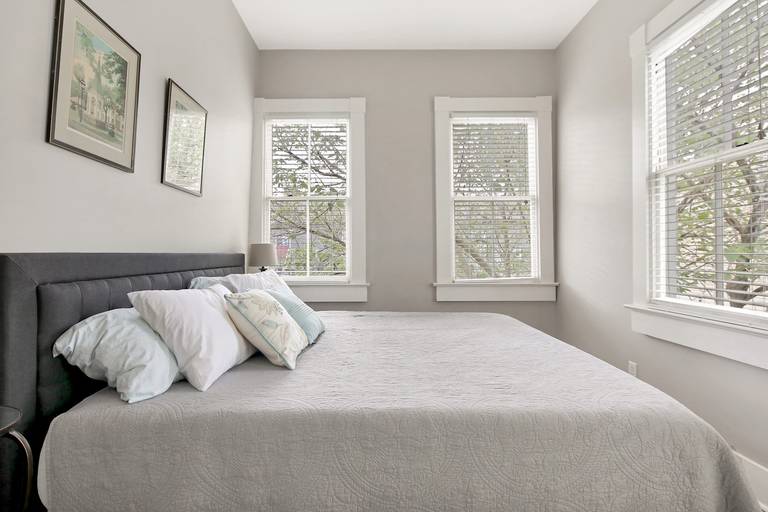 [23]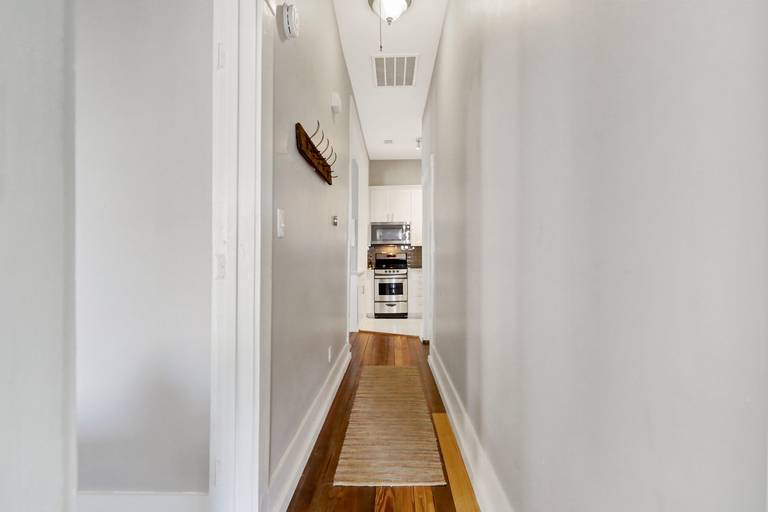 [24]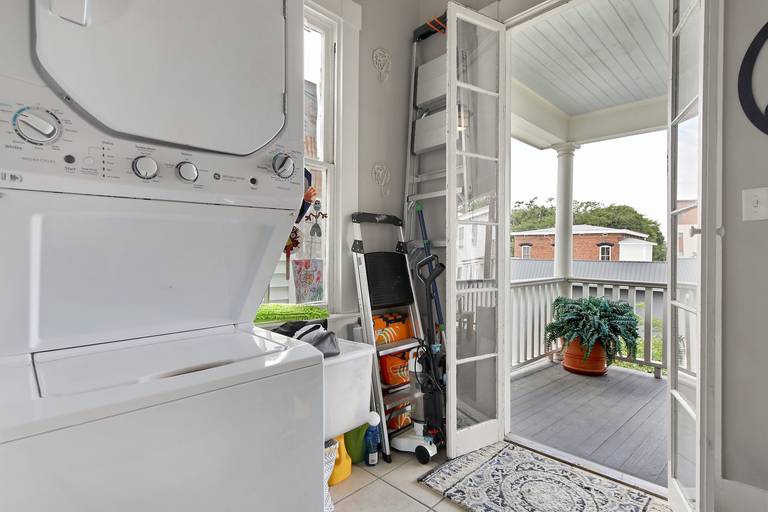 [25]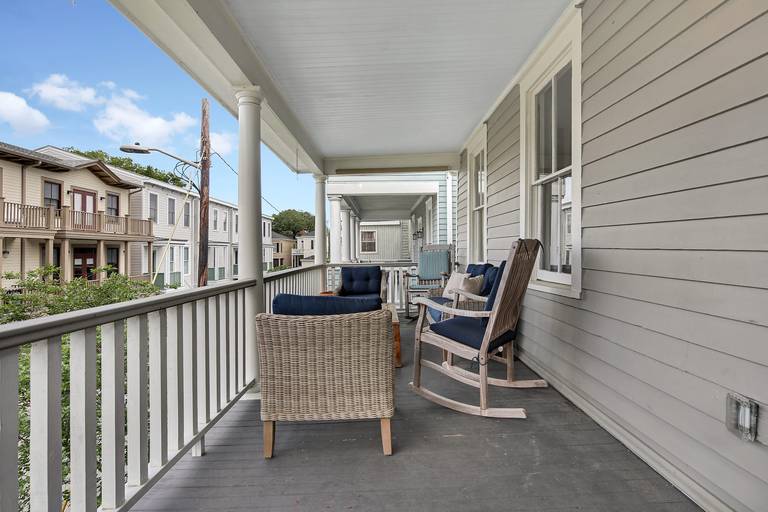 [26]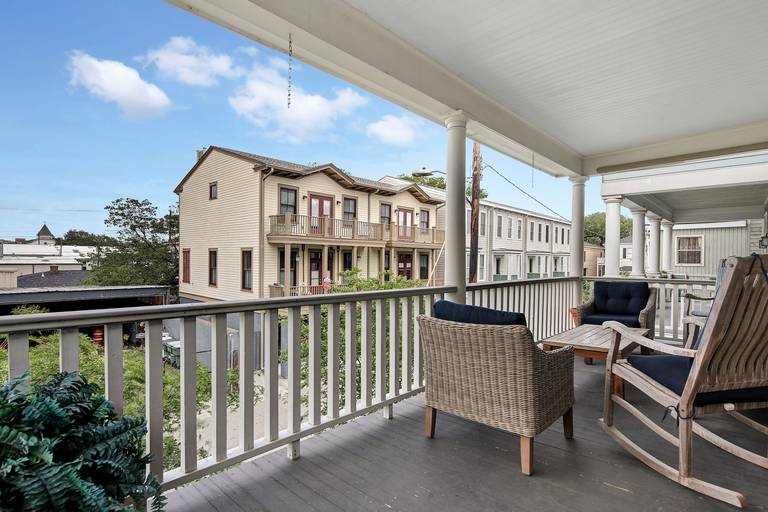 [27]
2 Bedrooms
1.5 Baths
Deck/Balcony
King Size Bed
Private Parking
Enhanced Housekeeping re: COVID-19: The health and safety of our owners, guests and staff is of utmost importance to us. We are taking extra precautions and steps to ensure that all professional housekeeping and interior property sanitation needs are not only being met, but exceeded, to ensure a hygienic environment. Specific enhanced steps taken include more commercial antibacterial cleaning products, staff wearing facial protection and gloves when in the homes, more frequent deep cleans, and continuation of our professional hospitality grade linen laundering services.
Lorch Porch House Upper is on the upper level of this the two-story residence. An ideal location for guests looking to stay on a quieter side of town, yet not wanting to compromise location! Accommodating up to four Lucky guests, there is an ample amount of space to relax, from indoors to outdoors.
Built in 1900 and fully renovated top-to-bottom, guests will appreciate the original rich hardwood flooring, crown molding, and high ceilings that are complimented with tasteful furnishings, creating an inviting space to relax. At Lorch Porch House Upper you'll find an opening living and dining space, perfect for entertaining! The modern kitchen has stainless steel appliances, a breakfast bar, and all the tools you'll need to prepare a home-cooked meal.
The two bedrooms are located at the back of the home for an ensured peaceful nights rest. The full size bathroom is ideally located just between the two bedrooms, while a powder room can be found just off of the kitchen! Guests can take advantage of the full-size washer and dryer just located at the front of the home.
If you love the outdoors, then this is the right property for you! After spending a long day sightseeing, come home to pour a glass of wine and relax on the porch with your friends or family - You'll never want to leave.
Set off East towards Clary's Cafe for breakfast before making your way North along Bull Street. Walk through each square to shop local retailers, grab a coffee or quick bite, or park yourself at a bench and just enjoy the Savannah scenery. Those in the mood for a true Southern meal will love being a stone's throw away from Mrs. Wilkes Boarding Room, with other local favorites such as 700 Drayton or Crystal Beer Parlor just a short walk from the apartment.
Popular tourist areas such as River Street and City Market are an 8-10 minute walk, while Savannah's local green space - Forsyth Park - are even closer.
What is parking like for this home?
This home has one dedicated parking space behind the home, while there is ample non-metered street parking in front of the home for additional vehicles. Guests will need to be mindful of posted Sweep Zone signs.
Dates
Price
11/26/20 - 11/29/20

$244

/nt

11/30/20 - 12/02/20

$110

/nt

11/30/20 - 12/02/20

$110

/nt

12/03/20 - 12/06/20

$124

/nt

12/07/20 - 12/09/20

$104

/nt

12/07/20 - 12/09/20

$104

/nt

12/10/20 - 12/13/20

$144

/nt

12/14/20 - 12/16/20

$104

/nt

12/14/20 - 12/16/20

$104

/nt

12/17/20 - 12/20/20

$144

/nt

12/21/20 - 12/23/20

$144

/nt

12/21/20 - 12/23/20

$144

/nt

12/24/20 - 12/27/20

$224

/nt

12/28/20 - 12/30/20

$214

/nt

12/28/20 - 12/30/20

$214

/nt

12/31/20 - 01/03/21

$244

/nt

01/04/21 - 01/06/21

$124

/nt

01/04/21 - 01/06/21

$124

/nt

01/07/21 - 01/10/21

$144

/nt

01/11/21 - 01/13/21

$114

/nt

01/11/21 - 01/13/21

$114

/nt

01/14/21 - 01/17/21

$164

/nt

01/18/21 - 01/20/21

$114

/nt

01/18/21 - 01/20/21

$114

/nt

01/21/21 - 01/24/21

$134

/nt

01/25/21 - 01/27/21

$114

/nt

01/25/21 - 01/27/21

$114

/nt

01/28/21 - 01/31/21

$134

/nt

02/01/21 - 02/03/21

$114

/nt

02/01/21 - 02/03/21

$114

/nt

02/04/21 - 02/07/21

$164

/nt

02/08/21 - 02/10/21

$114

/nt

02/08/21 - 02/10/21

$114

/nt

02/11/21 - 02/14/21

$244

/nt

02/15/21 - 02/17/21

$132

/nt

02/15/21 - 02/17/21

$132

/nt

02/18/21 - 02/21/21

$164

/nt

02/22/21 - 02/24/21

$141

/nt

02/22/21 - 02/24/21

$141

/nt

02/25/21 - 02/28/21

$164

/nt

03/01/21 - 03/03/21

$124

/nt

03/01/21 - 03/03/21

$124

/nt

03/04/21 - 03/07/21

$204

/nt

03/08/21 - 03/10/21

$144

/nt

03/08/21 - 03/10/21

$144

/nt

03/11/21 - 03/14/21

$244

/nt

03/15/21 - 03/17/21

$544

/nt

03/15/21 - 03/17/21

$544

/nt

03/18/21 - 03/21/21

$544

/nt

03/22/21 - 03/24/21

$144

/nt

03/22/21 - 03/24/21

$144

/nt

03/25/21 - 03/28/21

$264

/nt

03/29/21 - 03/31/21

$144

/nt

03/29/21 - 03/31/21

$144

/nt

04/01/21 - 04/04/21

$284

/nt

04/05/21 - 04/07/21

$144

/nt

04/05/21 - 04/07/21

$144

/nt

04/08/21 - 04/11/21

$224

/nt

04/12/21 - 04/14/21

$148

/nt

04/12/21 - 04/14/21

$148

/nt

04/15/21 - 04/18/21

$244

/nt

04/19/21 - 04/21/21

$148

/nt

04/19/21 - 04/21/21

$148

/nt

04/22/21 - 04/25/21

$244

/nt

04/26/21 - 04/28/21

$125

/nt

04/26/21 - 04/28/21

$125

/nt

04/29/21 - 05/02/21

$244

/nt

05/03/21 - 05/05/21

$127

/nt

05/03/21 - 05/05/21

$127

/nt

05/06/21 - 05/09/21

$244

/nt

05/10/21 - 05/12/21

$127

/nt

05/10/21 - 05/12/21

$127

/nt

05/13/21 - 05/16/21

$244

/nt

05/17/21 - 05/19/21

$144

/nt

05/17/21 - 05/19/21

$144

/nt

05/20/21 - 05/23/21

$284

/nt

05/24/21 - 05/26/21

$184

/nt

05/24/21 - 05/26/21

$184

/nt

05/27/21 - 05/30/21

$284

/nt

05/31/21 - 06/02/21

$184

/nt

05/31/21 - 06/02/21

$184

/nt

06/03/21 - 06/06/21

$244

/nt

06/07/21 - 06/09/21

$114

/nt

06/07/21 - 06/09/21

$114

/nt

06/10/21 - 06/13/21

$144

/nt

06/14/21 - 06/16/21

$114

/nt

06/14/21 - 06/16/21

$114

/nt

06/17/21 - 06/20/21

$144

/nt

06/21/21 - 06/23/21

$124

/nt

06/21/21 - 06/23/21

$124

/nt

06/24/21 - 06/27/21

$144

/nt

06/28/21 - 06/30/21

$124

/nt

06/28/21 - 06/30/21

$124

/nt

07/01/21 - 07/04/21

$204

/nt

07/05/21 - 07/07/21

$131

/nt

07/05/21 - 07/07/21

$131

/nt

07/08/21 - 07/11/21

$144

/nt

07/12/21 - 07/14/21

$131

/nt

07/12/21 - 07/14/21

$131

/nt

07/15/21 - 07/18/21

$144

/nt

07/19/21 - 07/21/21

$131

/nt

07/19/21 - 07/21/21

$131

/nt

07/22/21 - 07/25/21

$144

/nt

07/26/21 - 07/28/21

$115

/nt

07/26/21 - 07/28/21

$115

/nt

07/29/21 - 08/01/21

$144

/nt

08/02/21 - 08/04/21

$114

/nt

08/02/21 - 08/04/21

$114

/nt

08/05/21 - 08/08/21

$144

/nt

08/09/21 - 08/11/21

$114

/nt

08/09/21 - 08/11/21

$114

/nt

08/12/21 - 08/15/21

$144

/nt

08/16/21 - 08/18/21

$115

/nt

08/16/21 - 08/18/21

$115

/nt

08/19/21 - 08/22/21

$144

/nt

08/23/21 - 08/25/21

$115

/nt

08/23/21 - 08/25/21

$115

/nt

08/26/21 - 08/29/21

$144

/nt

08/30/21 - 09/01/21

$115

/nt

08/30/21 - 09/01/21

$115

/nt

09/02/21 - 09/05/21

$184

/nt

09/06/21 - 09/08/21

$144

/nt

09/06/21 - 09/08/21

$144

/nt

09/09/21 - 09/12/21

$164

/nt

09/13/21 - 09/15/21

$114

/nt

09/13/21 - 09/15/21

$114

/nt

09/16/21 - 09/19/21

$164

/nt

09/20/21 - 09/22/21

$114

/nt

09/20/21 - 09/22/21

$114

/nt

09/23/21 - 09/26/21

$164

/nt

09/27/21 - 09/29/21

$124

/nt

09/27/21 - 09/29/21

$124

/nt

09/30/21 - 10/03/21

$184

/nt

10/04/21 - 10/06/21

$124

/nt

10/04/21 - 10/06/21

$124

/nt

10/07/21 - 10/10/21

$184

/nt

10/11/21 - 10/13/21

$118

/nt

10/11/21 - 10/13/21

$118

/nt

10/14/21 - 10/17/21

$184

/nt

10/18/21 - 10/20/21

$118

/nt

10/18/21 - 10/20/21

$118

/nt

10/21/21 - 10/24/21

$184

/nt

10/25/21 - 10/27/21

$118

/nt

10/25/21 - 10/27/21

$118

/nt

10/28/21 - 10/31/21

$184

/nt

11/01/21 - 11/03/21

$118

/nt

11/01/21 - 11/03/21

$118

/nt

11/04/21 - 11/07/21

$244

/nt

11/08/21 - 11/10/21

$108

/nt

11/08/21 - 11/10/21

$108

/nt

11/11/21 - 11/14/21

$184

/nt

11/15/21 - 11/17/21

$118

/nt

11/15/21 - 11/17/21

$118

/nt