Available Specials
There are no specials currently available for booking. Please check back soon for special offers and
sign up for our email newsletter
[2]
to receive occasional emails with new specials.
AMENITY
combination tub/shower
king
queen
shower
toilet
tub
Vibrant Retreat in the Starland District w/ Parking by Lucky Savannah
Unit Code: DRAY4
GENERAL
Air Conditioning
Clothes Dryer
Hair Dryer
Heating
Internet
Iron & Board
Linens Provided
Living Room
Parking
Towels Provided
Washing Machine
SUITABILITY
non smoking only
pets considered
Leave a Review
[3]
Porches
Reviewed on 2020-10-19 by Jennifer H. from Aiken, SC United States
Updated on 2020-10-19
Services from rental manager
Cleanliness
Location
Property condition
Beautiful, historic charm with incredible porches. Very relaxing. Clean. Comfortable. Close to great restaurants. Would absolutely stay here again!
Lovely And Quaint!
Reviewed on 2020-10-02 by Anne M. from Tulsa, OK US
Updated on 2020-10-02
Services from rental manager
Cleanliness
Location
Property condition
Great part of town - close enough to the hustle and bustle but not in it. Just love real wood floors and being able to open a door to outside seating area. Beds extremely comfortable. May I suggest a different couch and chair in the living room. It's pretty but not that comfortable. Also, one or two lamps in the living room would add to the ambiance.
Drayton 4
Reviewed on 2020-10-02 by Tamarjia A. from Decatur, GA United States
Updated on 2020-10-02
Services from rental manager
Cleanliness
Location
Property condition
Comfortable, Clean, Convenient, Quiet,Quaint. I absolutely loved it. Convenient to the downtown area restaurants and night life, yet quiet enough to make you feel like you're away from it all. Clean, modern decor. Private parking area. Prompt service when I arrived. I do not have any complaints.
Wonderful condo
Reviewed on 2020-07-28 by from Smyrna, GA US
Updated on 2020-07-28
Services from rental manager
Cleanliness
Location
Property condition
My friend and I stayed there for the weekend, and had a lovely time! The layout is a great "roommate floorplan," and the two balconies are so adorable. <br/>We had a great time walking to Bull St. Tacos, Cotton & Rye, and Two Tides Brewery. Plus, it's a quick ride to the River Street Area. The beds and pillows were extremely comfortable, which is rare in rentals!<br/><br/>Now to get nit-picky: I was surprised the covers were still on the patio furniture... like, were we allowed to sit on it? Also, I was assured there was an ice maker in the freezer, and coffee filters would be provided, but that was not the case. They tried to deliver some coffee filters, but somehow they kept missing me and they never got there. We just used paper towels. They also forgot to leave the dishwashing detergent. And the code to get in the door was wrong (missing a digit), but the overnight phone number was able to help get me inside at check-in. <br/><br/>That said, I would absolutely stay there again.
First and foremost, thank you for taking the time to share your feedback with us. We would like to express our gratitude for your kind and honest review. Our team works together to ensure our guests have a wonderful stay from booking, to their departure. Many of our homeowners elect to cover the outdoor furniture as a courtesy to guests, so they can enjoy a clean, and dry outdoor environment! We certainly apologize for any confusion, and will work on adding signage to the unit to prevent future confusion. We're so happy to hear that our after hours team was available to assist after hours, and get you in to your rental. While technology is not always perfect, we're always here to help! We would love to host you again here at Lucky Savannah, and help find another great home fitted for your next vacation
102 East 35th Street
Unit 4
31401
Savannah
,
GA
United States
32° 3' 31.14" N, 81° 5' 53.1492" W
Georgia US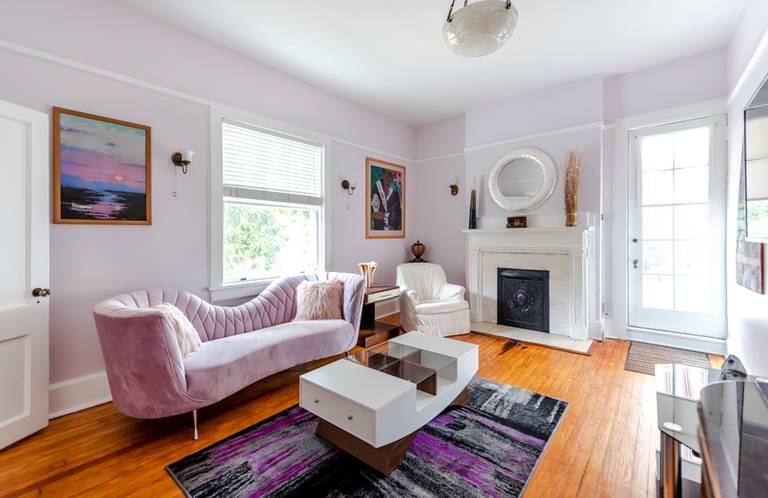 [5]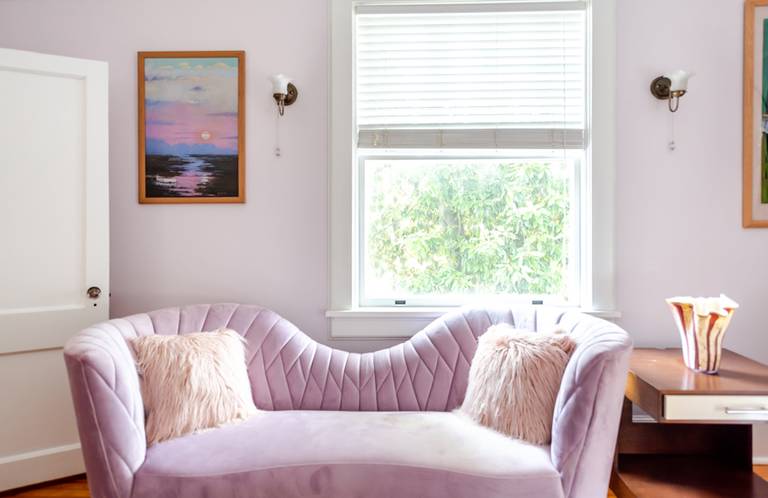 [6]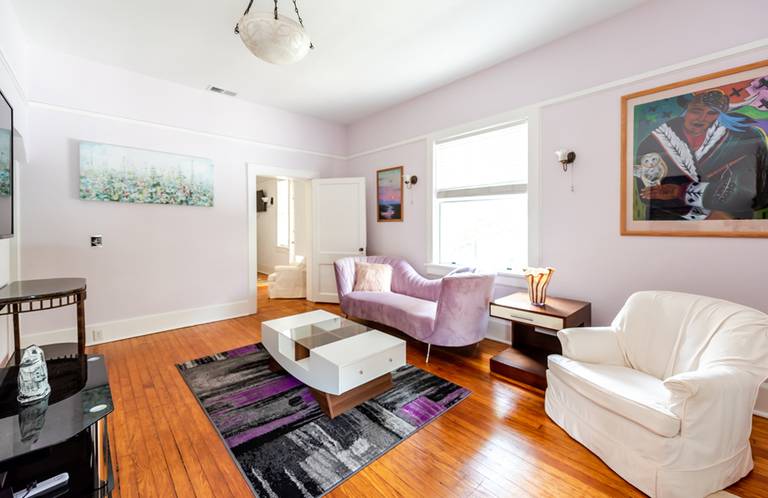 [7]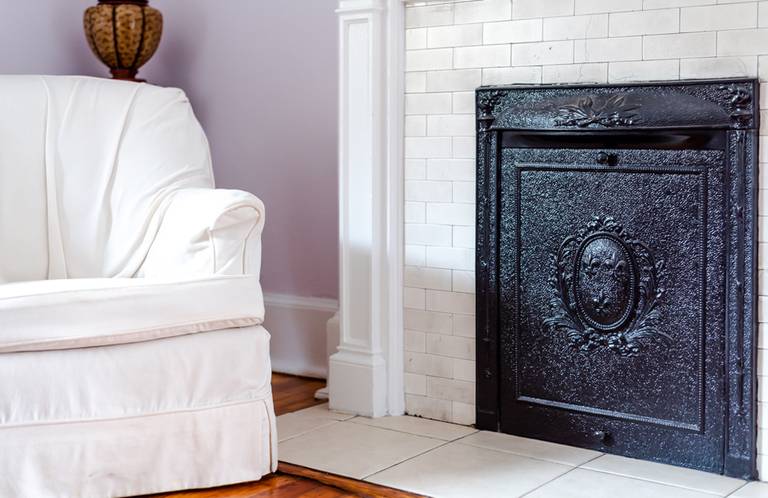 [8]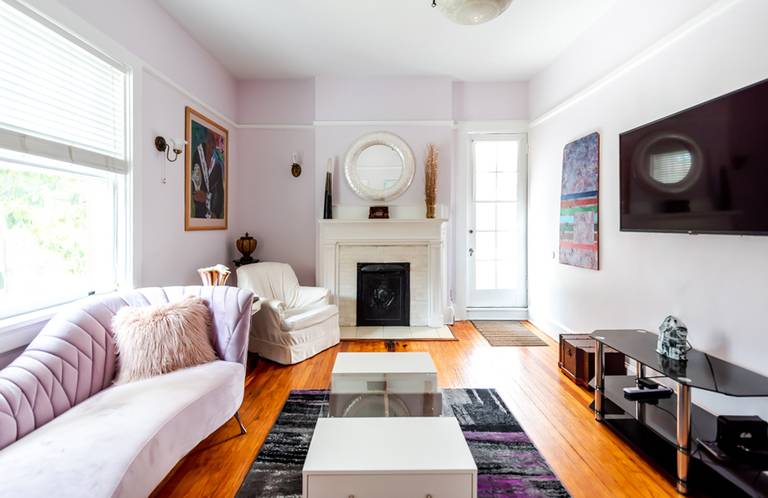 [9]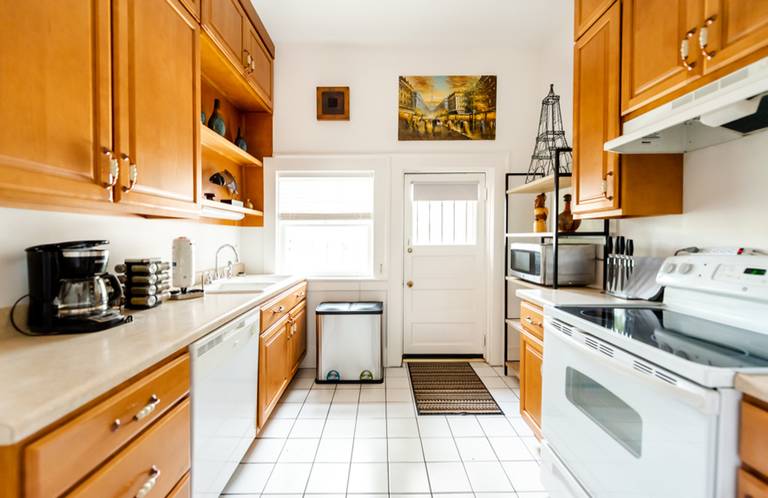 [10]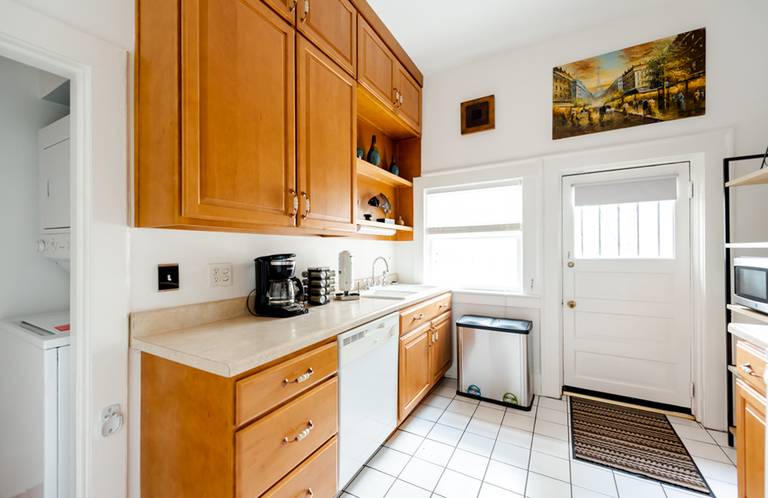 [11]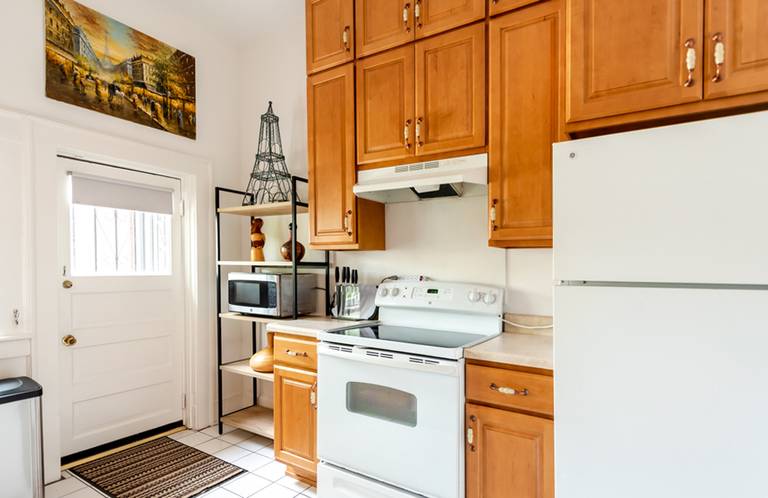 [12]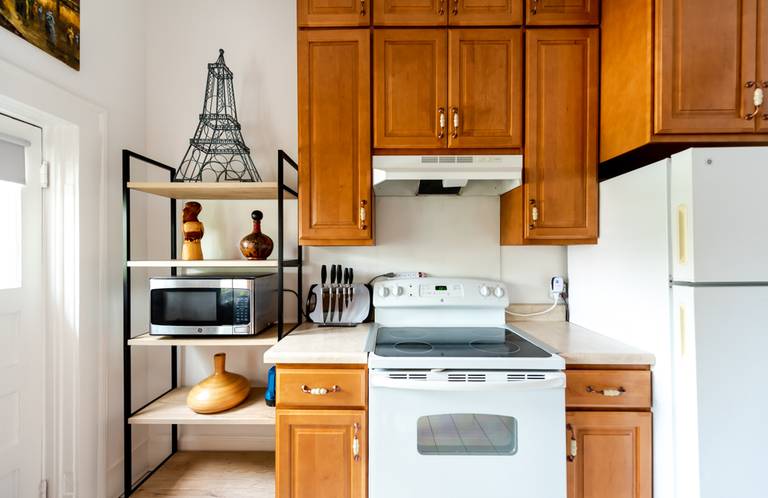 [13]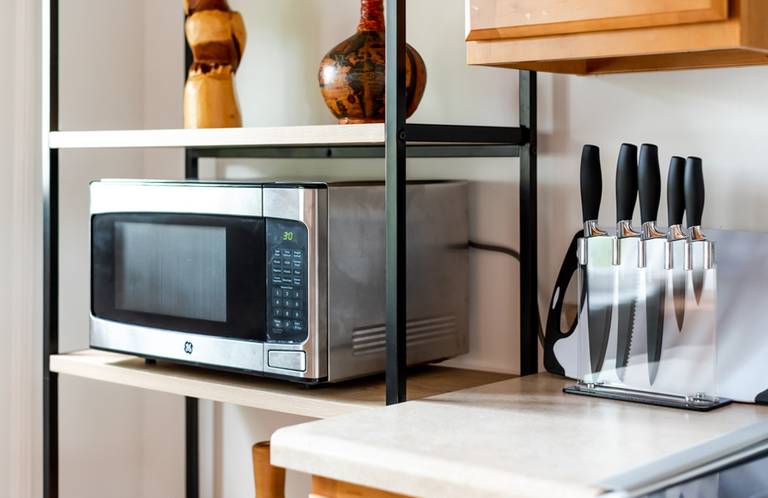 [14]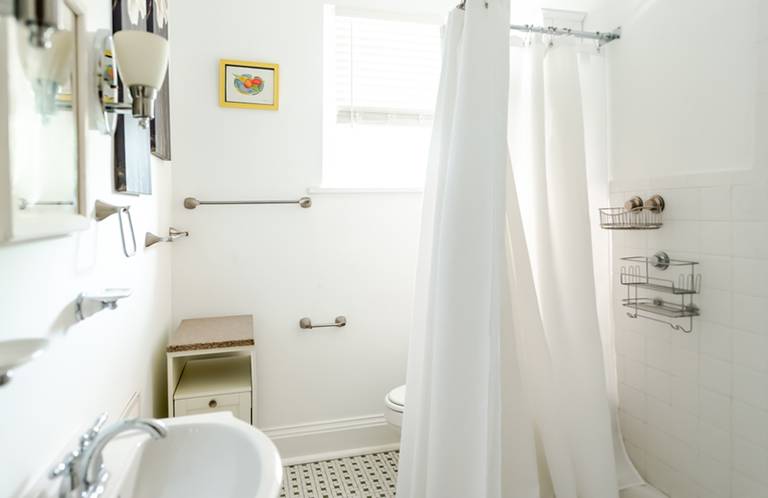 [15]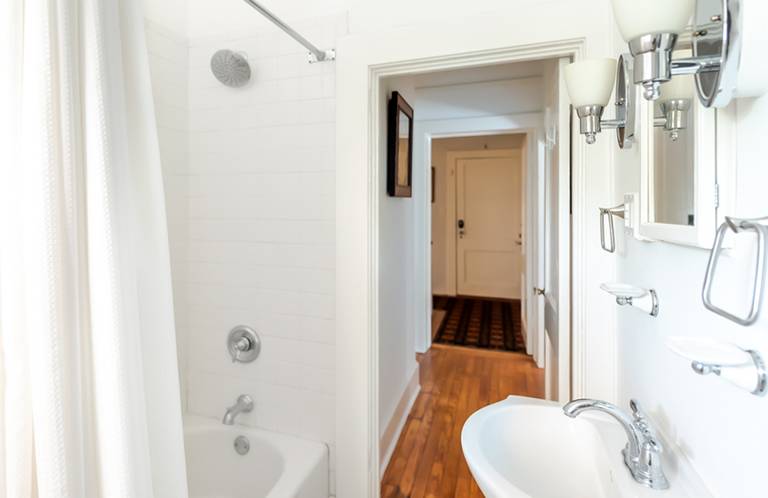 [16]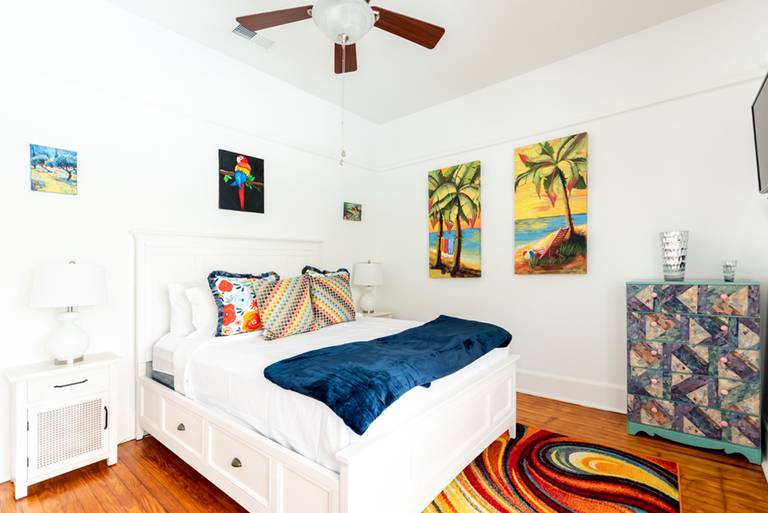 [17]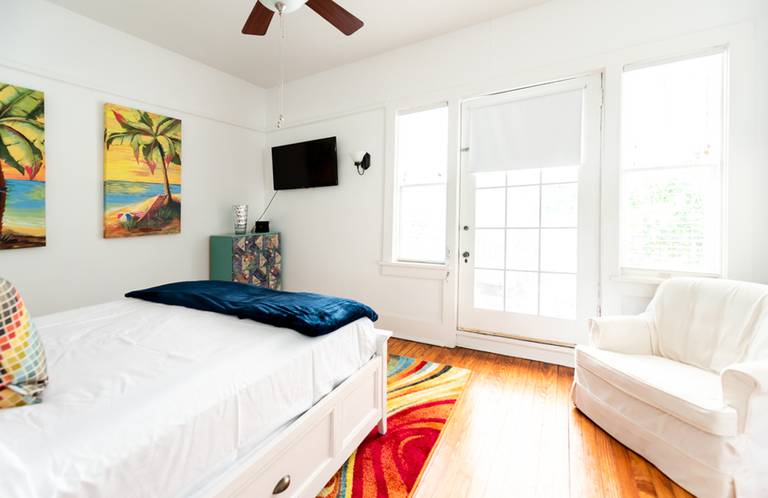 [18]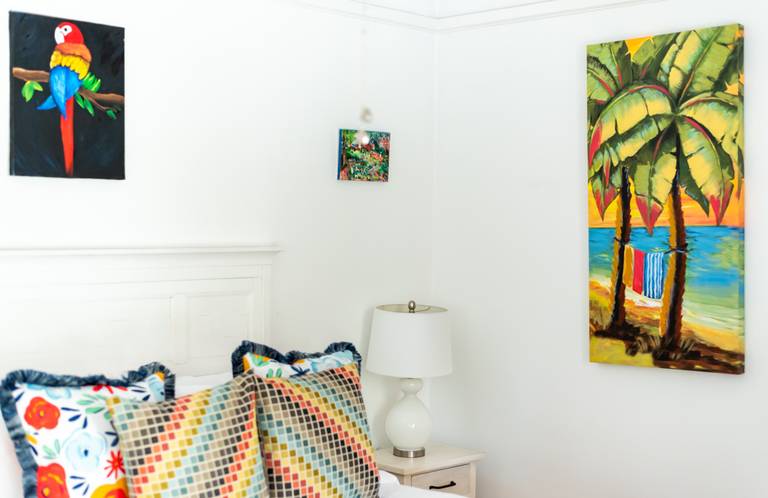 [19]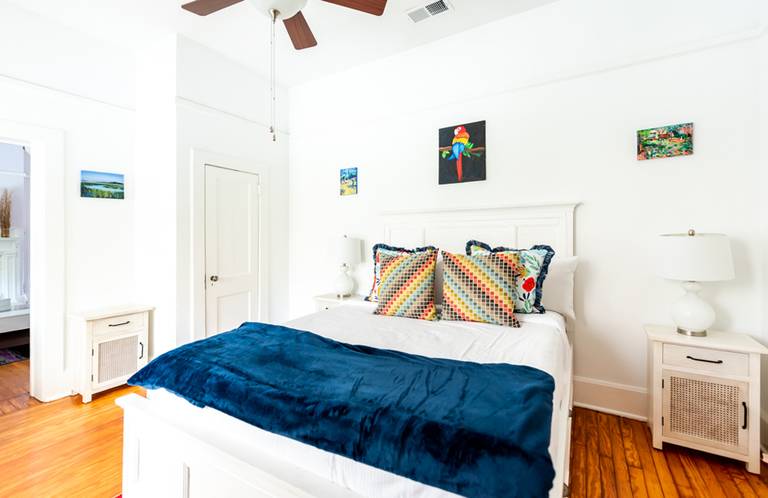 [20]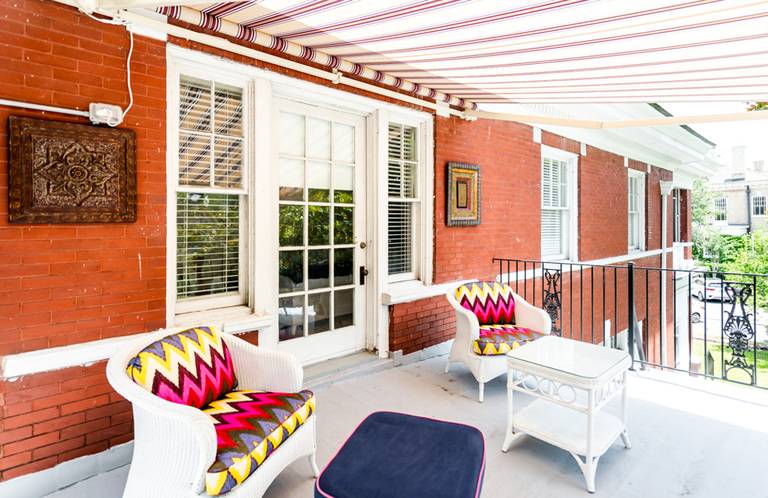 [21]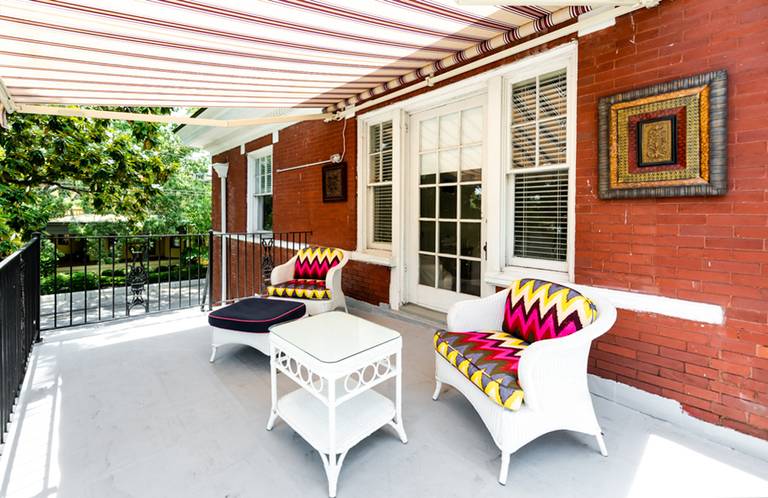 [22]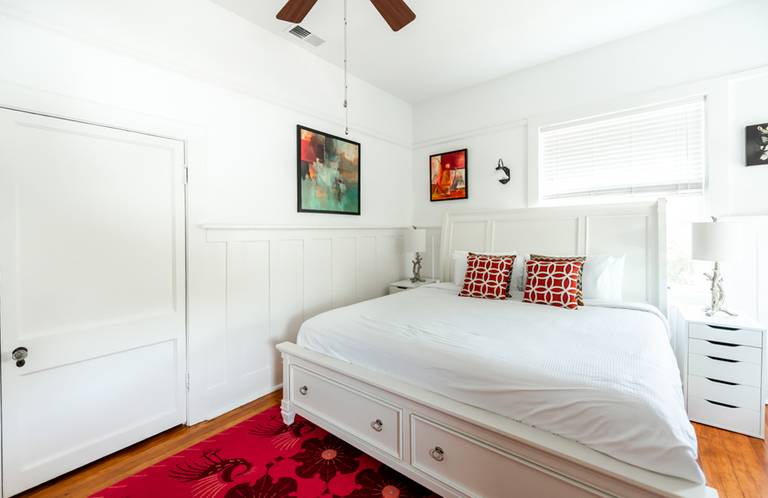 [23]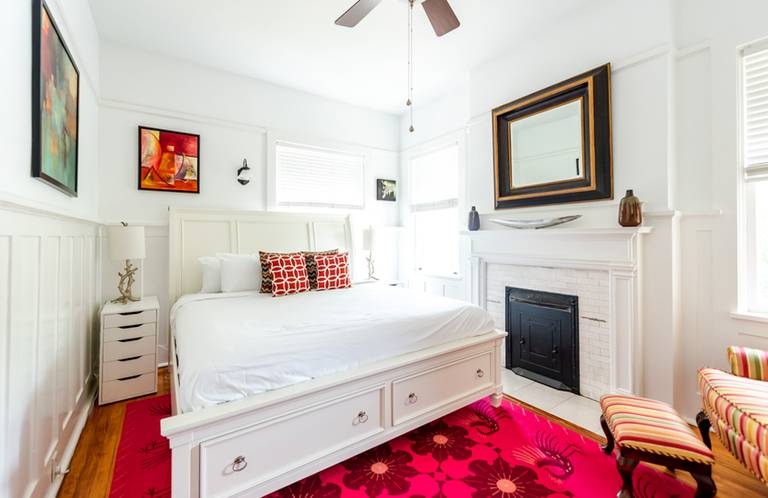 [24]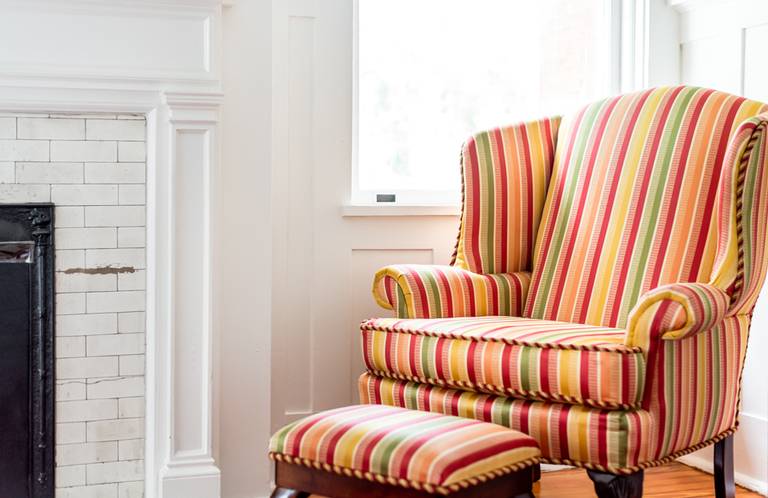 [25]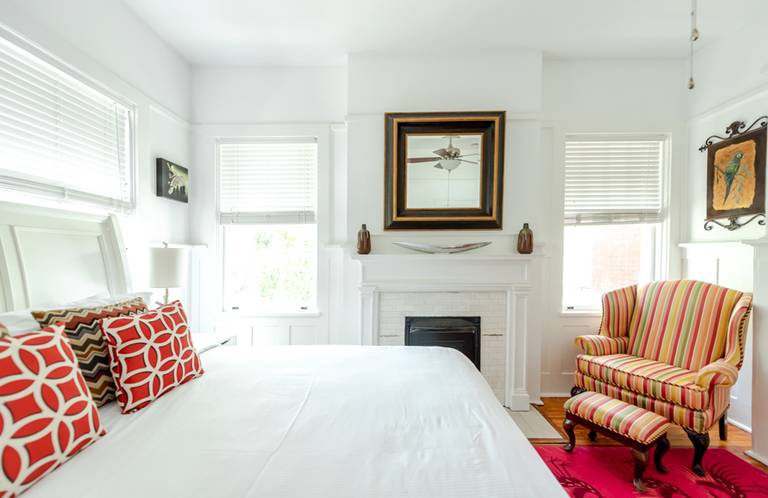 [26]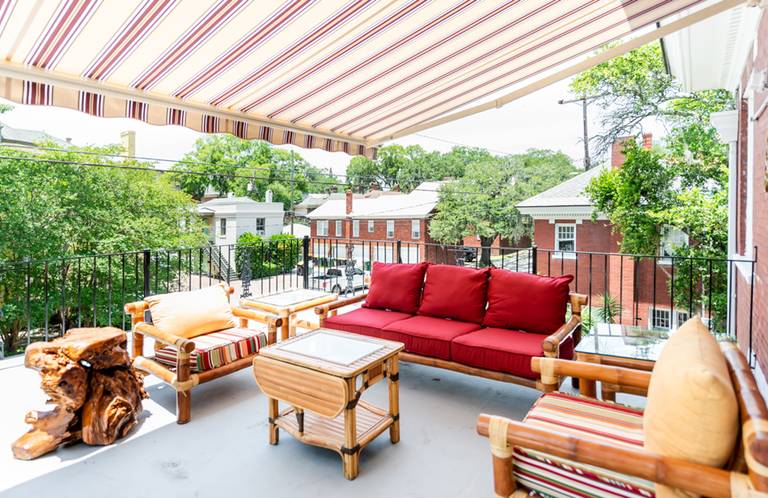 [27]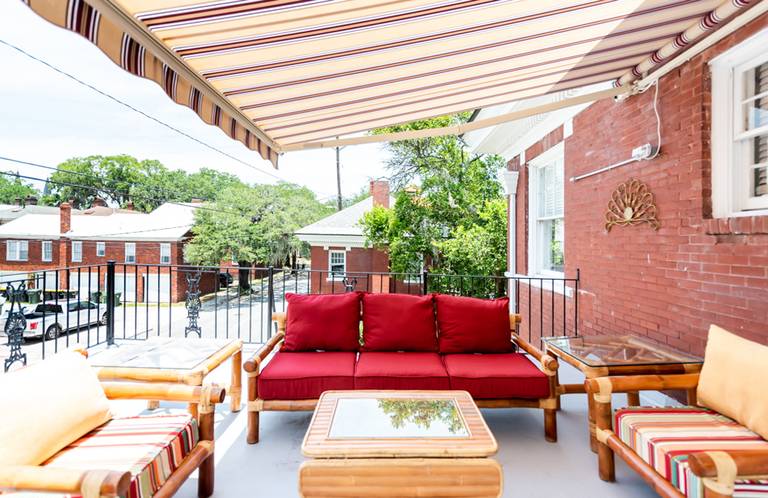 [28]
[29]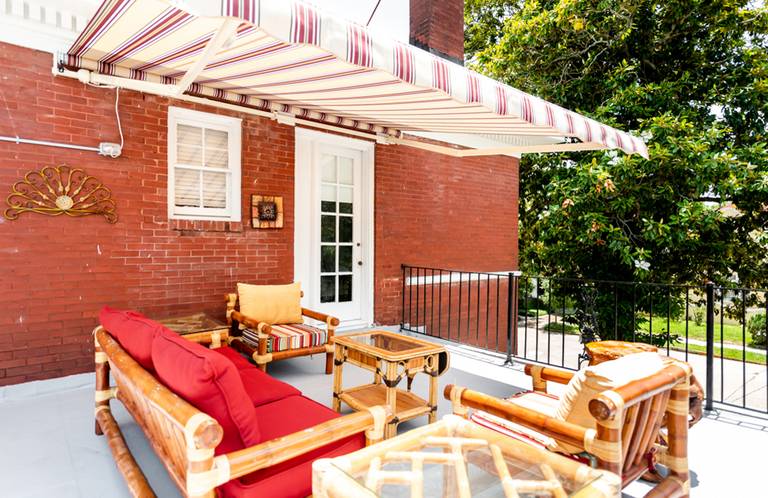 [30]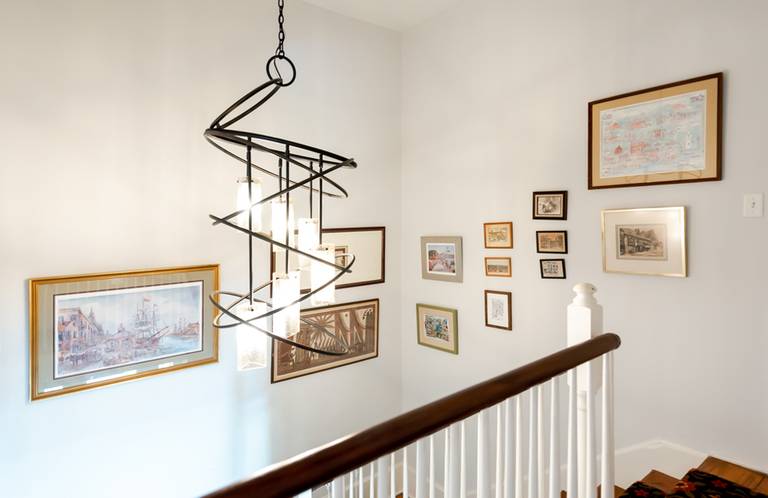 [31]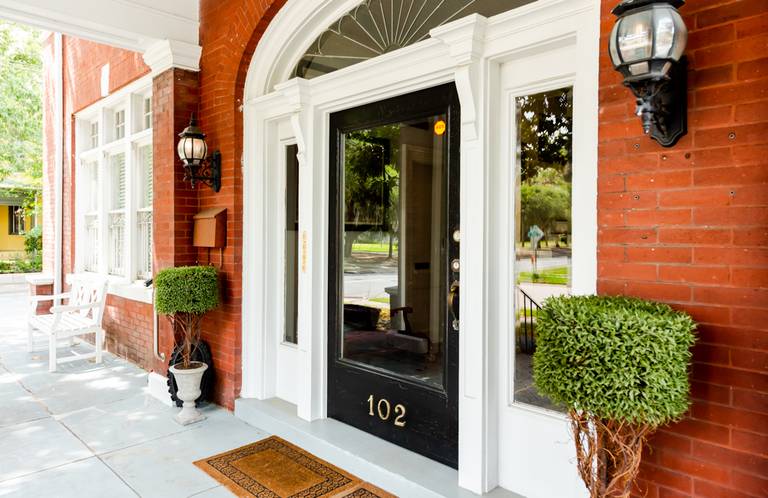 [32]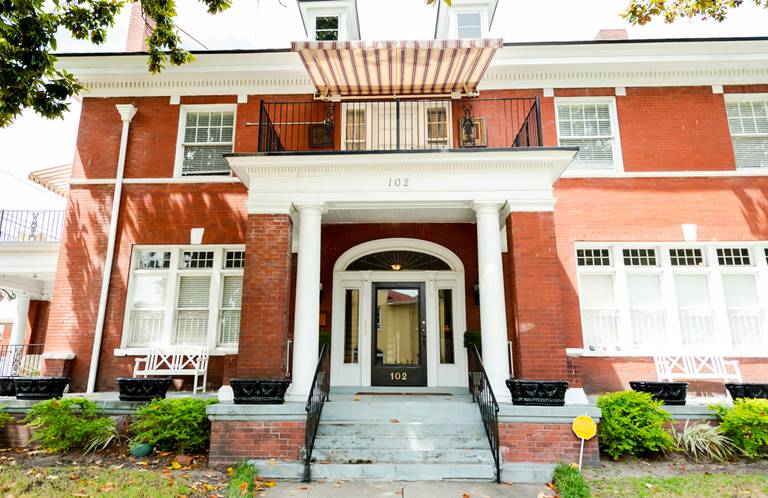 [33]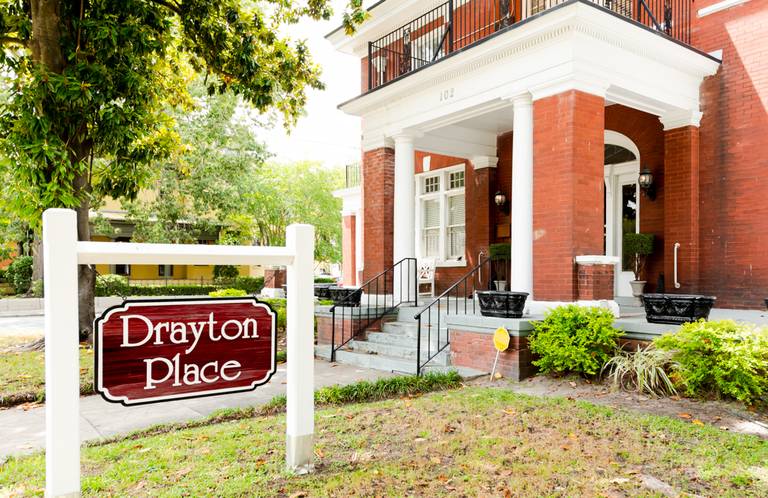 [34]
2 Bedrooms
1 Bath
Deck/Balcony
King Size Bed
Pet Friendly
Private Parking
Enhanced Housekeeping re: COVID-19: The health and safety of our owners, guests and staff is of utmost importance to us. We are taking extra precautions and steps to ensure that all professional housekeeping and interior property sanitation needs are not only being met, but exceeded, to ensure a hygienic environment. Specific enhanced steps taken include more commercial antibacterial cleaning products, staff wearing facial protection and gloves when in the homes, more frequent deep cleans, and continuation of our professional hospitality grade linen laundering services.
This beautiful two bedroom, one bath home is located in Savannah's Starland District, a revitalized neighborhood filled with galleries, vintage apparel shops, music venues, cafes, restaurants, and loads of architectural and cultural history.
You'll enter the building and go up the stairs to access this second story apartment. The living space has a decorative fireplace, original artwork by local artists, a large flat screen TV, and opens to a large, private porch. The vibrant color palette will leave you feeling relaxed, refreshed, and ready to start exploring Savannah. Whether you're dining in or relaxing, your group will have plenty of space to be together. You'll find everything you need to prepare a meal at this home away from home in the galley style kitchen.
The first of two bedrooms has a King sized bed with a large sitting chair, and ample amount of storage for your belongings. The second bedroom has an inviting Queen sized bed, with its own private balcony that offers two comfy wicker chairs, perfect for reading! The shared bathroom has a large vanity and a shower/tub combo.
You'll be down the street from Foxy Loxy Cafe which brews locally roasted Perc Coffee and makes both delicious pastries and tacos. Nearby Lincoln Street has a bike lane, so you can zip down to River Street or City Market in just a few minutes.
Private Parking
This unit includes a private parking space located at the rear of the property.
Why Lucky Savannah Loves this Property:
This unit includes a private parking space, and there is plenty of non-metered parking in the surrounding area.
This pet friendly home is a few minutes walk from Blowin' Smoke, where you and your pooch can enjoy BBQ in the courtyard.
Sleeping Configuration:
Bedroom 1: King Bed
Bedroom 2: Queen Bed
We can welcome your dog companions at this pet friendly home, but ask that you find other arrangements for cats, birds, and other furry friends. There is a $130 pet fee (non-refundable) with a 35 lb. maximum weight limit per dog and a limit of 2 dogs per reservation. Some homes may allow larger dogs, please inquire for more information.
Dates
Price
11/26/20 - 11/29/20

$244

/nt

11/30/20 - 12/02/20

$110

/nt

11/30/20 - 12/02/20

$110

/nt

12/03/20 - 12/06/20

$124

/nt

12/07/20 - 12/09/20

$104

/nt

12/07/20 - 12/09/20

$104

/nt

12/10/20 - 12/13/20

$144

/nt

12/14/20 - 12/16/20

$104

/nt

12/14/20 - 12/16/20

$104

/nt

12/17/20 - 12/20/20

$144

/nt

12/21/20 - 12/23/20

$144

/nt

12/21/20 - 12/23/20

$144

/nt

12/24/20 - 12/27/20

$224

/nt

12/28/20 - 12/30/20

$214

/nt

12/28/20 - 12/30/20

$214

/nt

12/31/20 - 01/03/21

$244

/nt

01/04/21 - 01/06/21

$124

/nt

01/04/21 - 01/06/21

$124

/nt

01/07/21 - 01/10/21

$144

/nt

01/11/21 - 01/13/21

$114

/nt

01/11/21 - 01/13/21

$114

/nt

01/14/21 - 01/17/21

$164

/nt

01/18/21 - 01/20/21

$114

/nt

01/18/21 - 01/20/21

$114

/nt

01/21/21 - 01/24/21

$134

/nt

01/25/21 - 01/27/21

$114

/nt

01/25/21 - 01/27/21

$114

/nt

01/28/21 - 01/31/21

$134

/nt

02/01/21 - 02/03/21

$114

/nt

02/01/21 - 02/03/21

$114

/nt

02/04/21 - 02/07/21

$164

/nt

02/08/21 - 02/10/21

$114

/nt

02/08/21 - 02/10/21

$114

/nt

02/11/21 - 02/14/21

$244

/nt

02/15/21 - 02/17/21

$132

/nt

02/15/21 - 02/17/21

$132

/nt

02/18/21 - 02/21/21

$164

/nt

02/22/21 - 02/24/21

$141

/nt

02/22/21 - 02/24/21

$141

/nt

02/25/21 - 02/28/21

$164

/nt

03/01/21 - 03/03/21

$124

/nt

03/01/21 - 03/03/21

$124

/nt

03/04/21 - 03/07/21

$204

/nt

03/08/21 - 03/10/21

$144

/nt

03/08/21 - 03/10/21

$144

/nt

03/11/21 - 03/14/21

$244

/nt

03/15/21 - 03/17/21

$544

/nt

03/15/21 - 03/17/21

$544

/nt

03/18/21 - 03/21/21

$544

/nt

03/22/21 - 03/24/21

$144

/nt

03/22/21 - 03/24/21

$144

/nt

03/25/21 - 03/28/21

$264

/nt

03/29/21 - 03/31/21

$144

/nt

03/29/21 - 03/31/21

$144

/nt

04/01/21 - 04/04/21

$284

/nt

04/05/21 - 04/07/21

$144

/nt

04/05/21 - 04/07/21

$144

/nt

04/08/21 - 04/11/21

$224

/nt

04/12/21 - 04/14/21

$148

/nt

04/12/21 - 04/14/21

$148

/nt

04/15/21 - 04/18/21

$244

/nt

04/19/21 - 04/21/21

$148

/nt

04/19/21 - 04/21/21

$148

/nt

04/22/21 - 04/25/21

$244

/nt

04/26/21 - 04/28/21

$125

/nt

04/26/21 - 04/28/21

$125

/nt

04/29/21 - 05/02/21

$244

/nt

05/03/21 - 05/05/21

$127

/nt

05/03/21 - 05/05/21

$127

/nt

05/06/21 - 05/09/21

$244

/nt

05/10/21 - 05/12/21

$127

/nt

05/10/21 - 05/12/21

$127

/nt

05/13/21 - 05/16/21

$244

/nt

05/17/21 - 05/19/21

$144

/nt

05/17/21 - 05/19/21

$144

/nt

05/20/21 - 05/23/21

$284

/nt

05/24/21 - 05/26/21

$184

/nt

05/24/21 - 05/26/21

$184

/nt

05/27/21 - 05/30/21

$284

/nt

05/31/21 - 06/02/21

$184

/nt

05/31/21 - 06/02/21

$184

/nt

06/03/21 - 06/06/21

$244

/nt

06/07/21 - 06/09/21

$114

/nt

06/07/21 - 06/09/21

$114

/nt

06/10/21 - 06/13/21

$144

/nt

06/14/21 - 06/16/21

$114

/nt

06/14/21 - 06/16/21

$114

/nt

06/17/21 - 06/20/21

$144

/nt

06/21/21 - 06/23/21

$124

/nt

06/21/21 - 06/23/21

$124

/nt

06/24/21 - 06/27/21

$144

/nt

06/28/21 - 06/30/21

$124

/nt

06/28/21 - 06/30/21

$124

/nt

07/01/21 - 07/04/21

$204

/nt

07/05/21 - 07/07/21

$131

/nt

07/05/21 - 07/07/21

$131

/nt

07/08/21 - 07/11/21

$144

/nt

07/12/21 - 07/14/21

$131

/nt

07/12/21 - 07/14/21

$131

/nt

07/15/21 - 07/18/21

$144

/nt

07/19/21 - 07/21/21

$131

/nt

07/19/21 - 07/21/21

$131

/nt

07/22/21 - 07/25/21

$144

/nt

07/26/21 - 07/28/21

$115

/nt

07/26/21 - 07/28/21

$115

/nt

07/29/21 - 08/01/21

$144

/nt

08/02/21 - 08/04/21

$114

/nt

08/02/21 - 08/04/21

$114

/nt

08/05/21 - 08/08/21

$144

/nt

08/09/21 - 08/11/21

$114

/nt

08/09/21 - 08/11/21

$114

/nt

08/12/21 - 08/15/21

$144

/nt

08/16/21 - 08/18/21

$115

/nt

08/16/21 - 08/18/21

$115

/nt

08/19/21 - 08/22/21

$144

/nt

08/23/21 - 08/25/21

$115

/nt

08/23/21 - 08/25/21

$115

/nt

08/26/21 - 08/29/21

$144

/nt

08/30/21 - 09/01/21

$115

/nt

08/30/21 - 09/01/21

$115

/nt

09/02/21 - 09/05/21

$184

/nt

09/06/21 - 09/08/21

$144

/nt

09/06/21 - 09/08/21

$144

/nt

09/09/21 - 09/12/21

$164

/nt

09/13/21 - 09/15/21

$114

/nt

09/13/21 - 09/15/21

$114

/nt

09/16/21 - 09/19/21

$164

/nt

09/20/21 - 09/22/21

$114

/nt

09/20/21 - 09/22/21

$114

/nt

09/23/21 - 09/26/21

$164

/nt

09/27/21 - 09/29/21

$124

/nt

09/27/21 - 09/29/21

$124

/nt

09/30/21 - 10/03/21

$184

/nt

10/04/21 - 10/06/21

$124

/nt

10/04/21 - 10/06/21

$124

/nt

10/07/21 - 10/10/21

$184

/nt

10/11/21 - 10/13/21

$118

/nt

10/11/21 - 10/13/21

$118

/nt

10/14/21 - 10/17/21

$184

/nt

10/18/21 - 10/20/21

$118

/nt

10/18/21 - 10/20/21

$118

/nt

10/21/21 - 10/24/21

$184

/nt

10/25/21 - 10/27/21

$118

/nt

10/25/21 - 10/27/21

$118

/nt

10/28/21 - 10/31/21

$184

/nt

11/01/21 - 11/03/21

$118

/nt

11/01/21 - 11/03/21

$118

/nt

11/04/21 - 11/07/21

$244

/nt

11/08/21 - 11/10/21

$108

/nt

11/08/21 - 11/10/21

$108

/nt

11/11/21 - 11/14/21

$184

/nt

11/15/21 - 11/17/21

$118

/nt

11/15/21 - 11/17/21

$118

/nt