Stylish Historic Cottage c.1884 w/ Parking & Courtyard by Lucky Savannah
Unit Code: COOPCOT
Leave a Review
[2]
GENERAL
Air Conditioning
Clothes Dryer
Hair Dryer
Heating
Internet
Iron & Board
Linens Provided
Living Room
Parking
Towels Provided
Washing Machine
Wifi
Free Wifi
SUITABILITY
non smoking only
pets considered
wheelchair inaccessible
Parking
Private Parking
Private Parking Space
Available Specials
There are no specials currently available for booking. Please check back soon for special offers and
sign up for our email newsletter
[3]
to receive occasional emails with new specials.
31401
Savannah
,
GA
United States
32° 4' 3.5256" N, 81° 5' 57.6708" W
Georgia US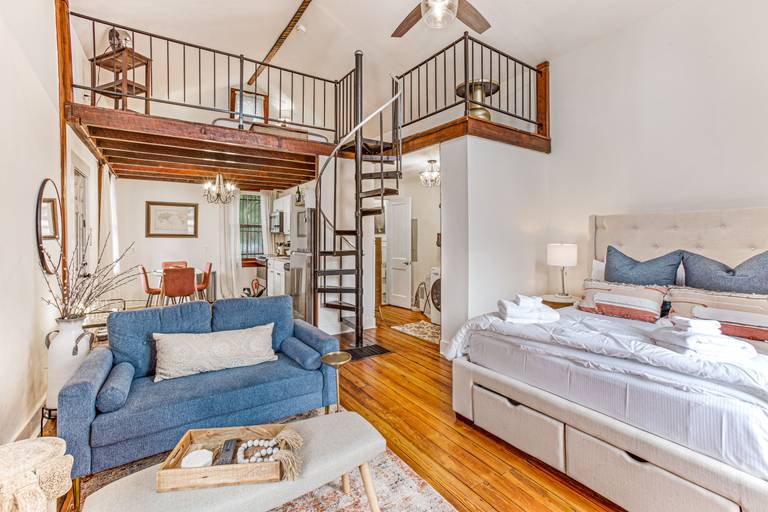 [5]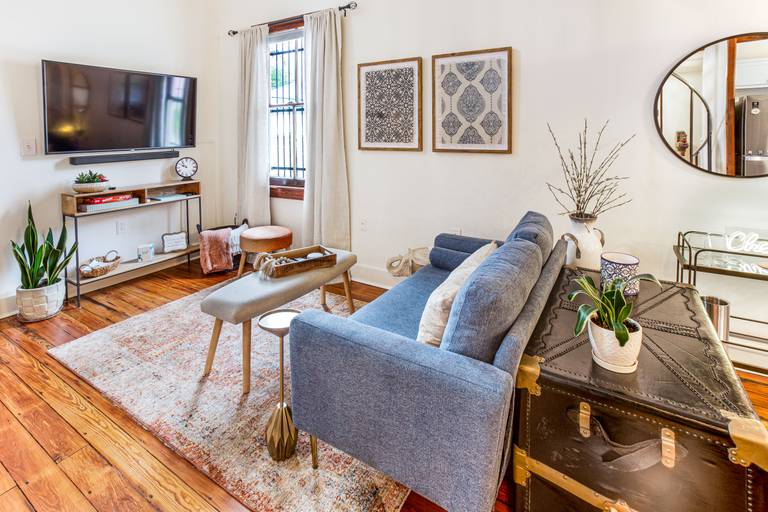 [6]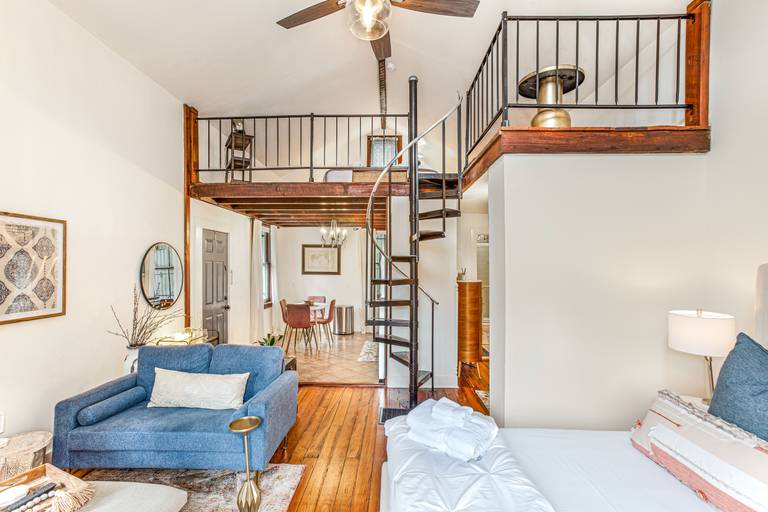 [7]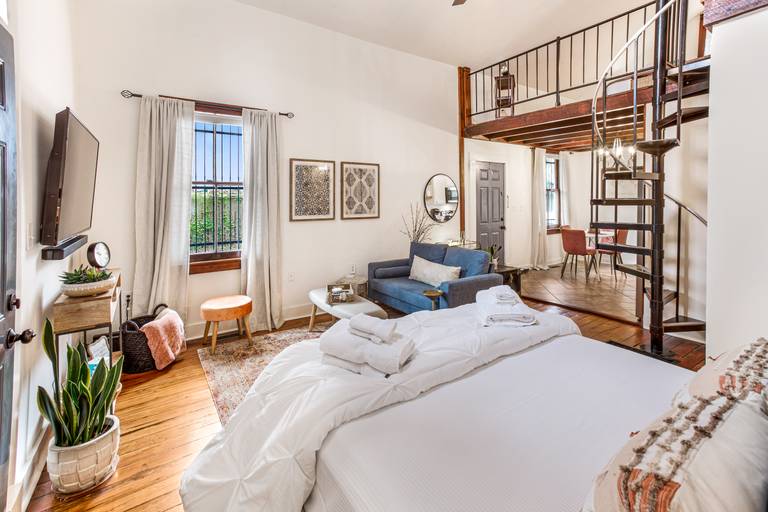 [8]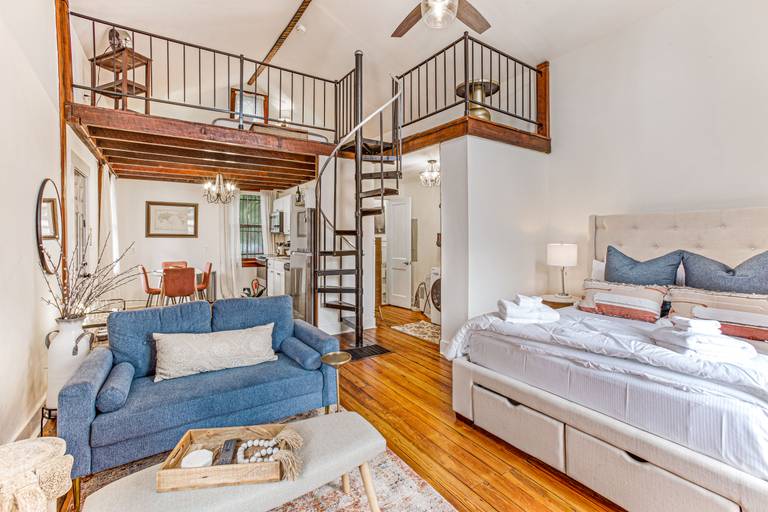 [9]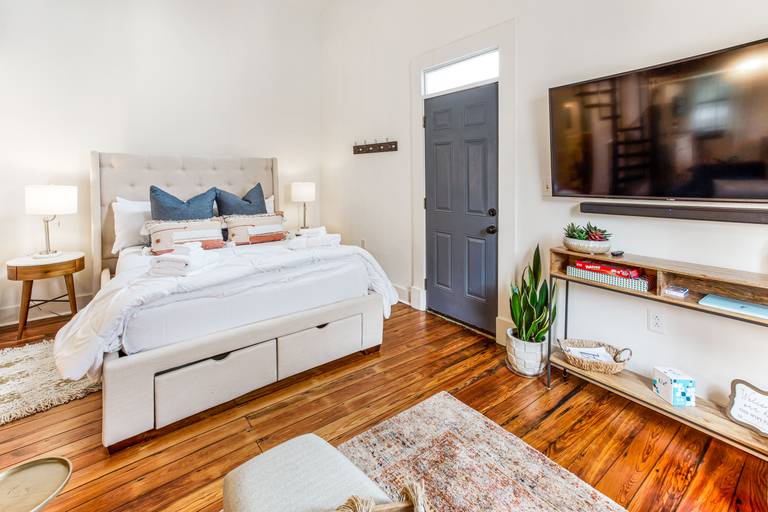 [10]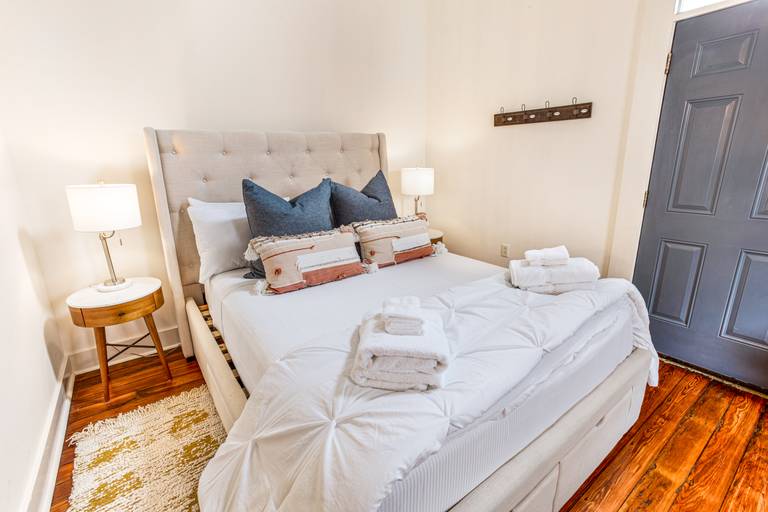 [11]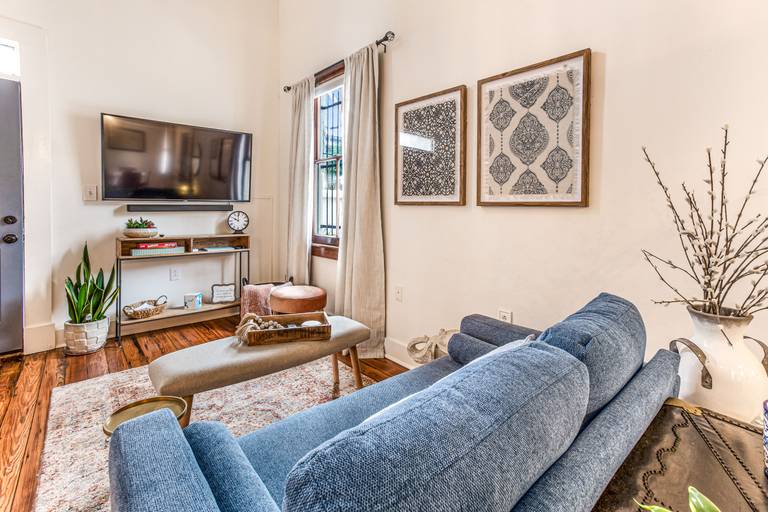 [12]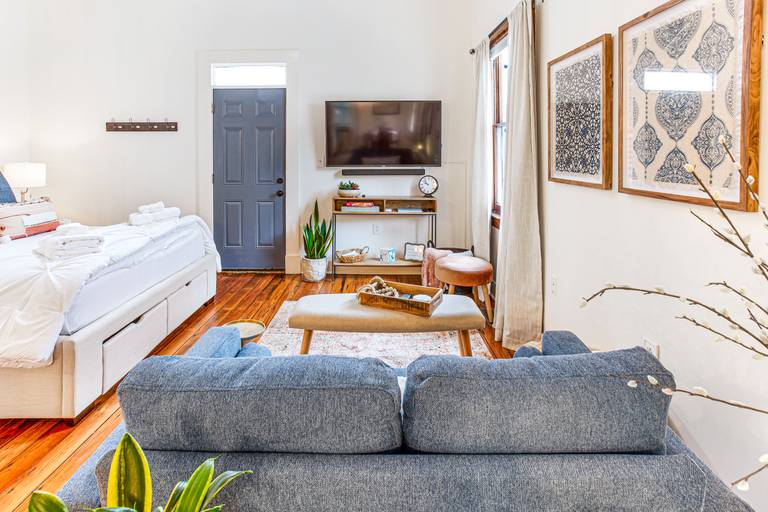 [13]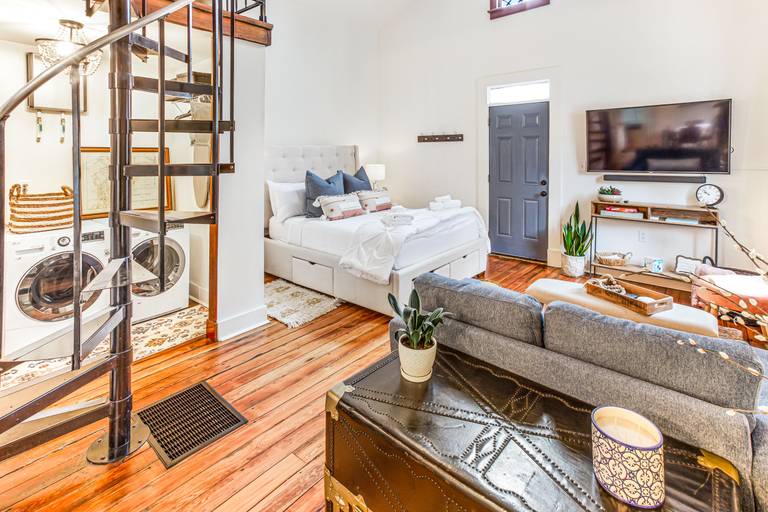 [14]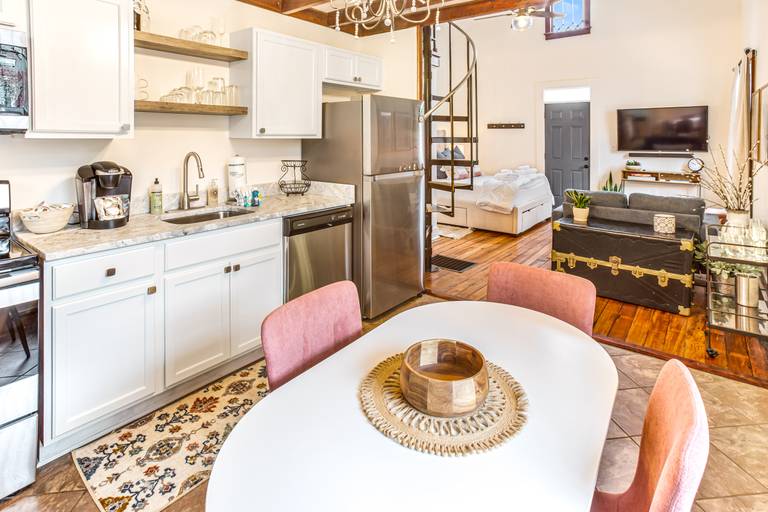 [15]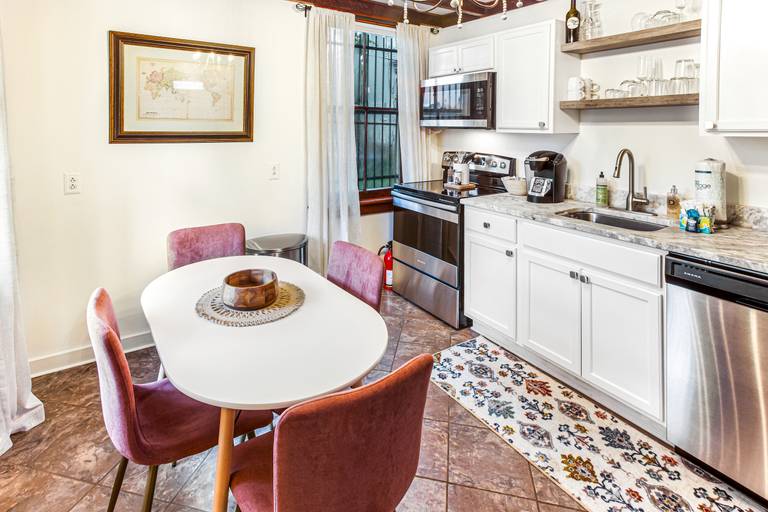 [16]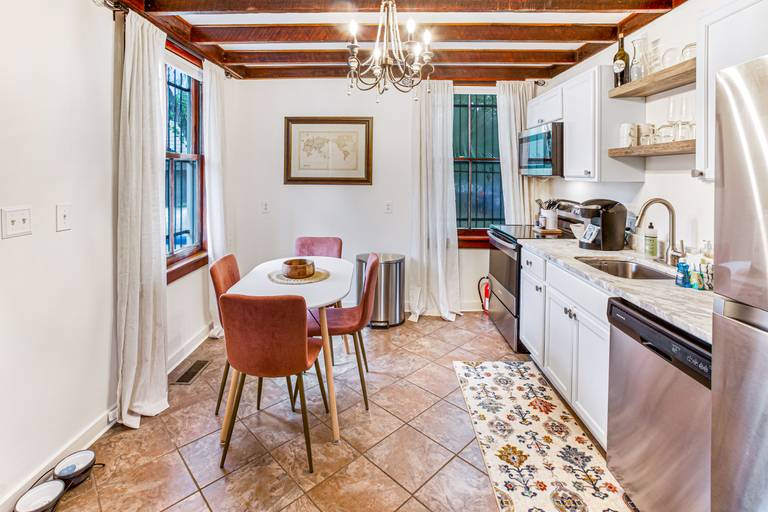 [17]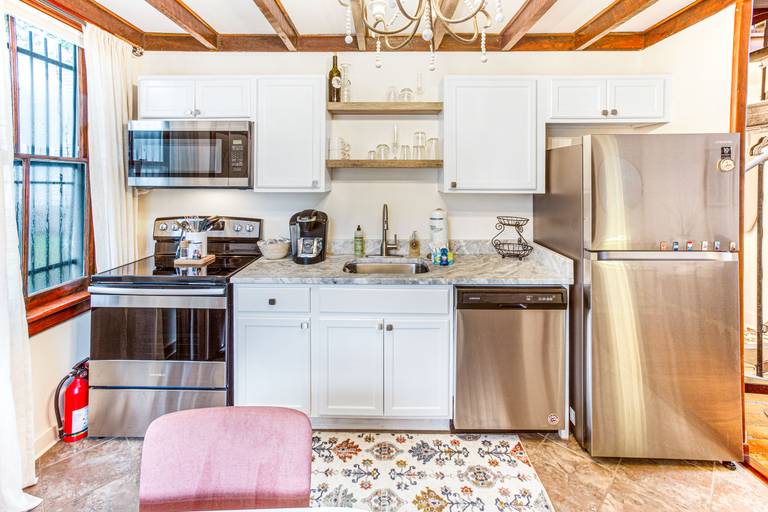 [18]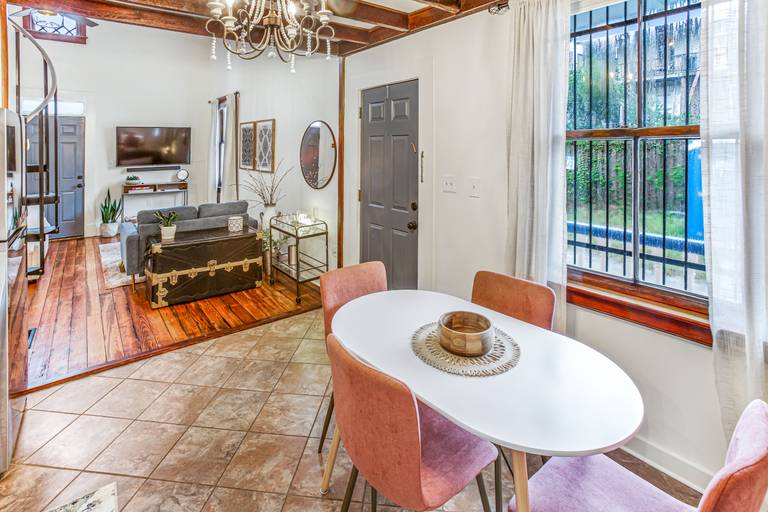 [19]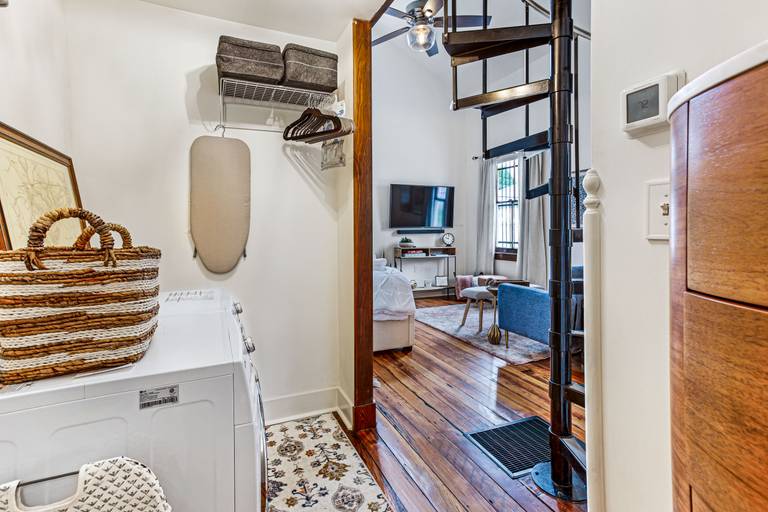 [20]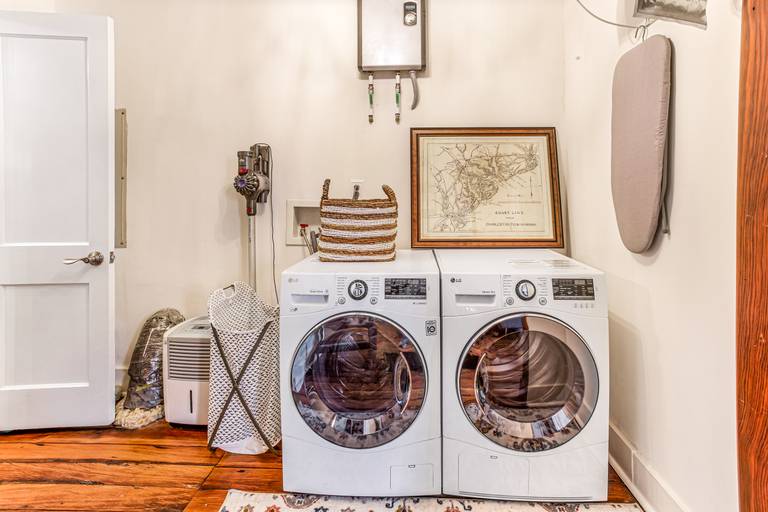 [21]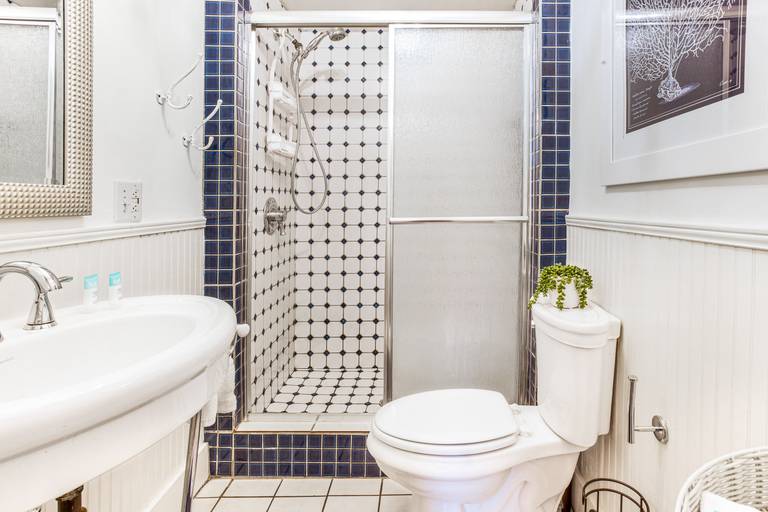 [22]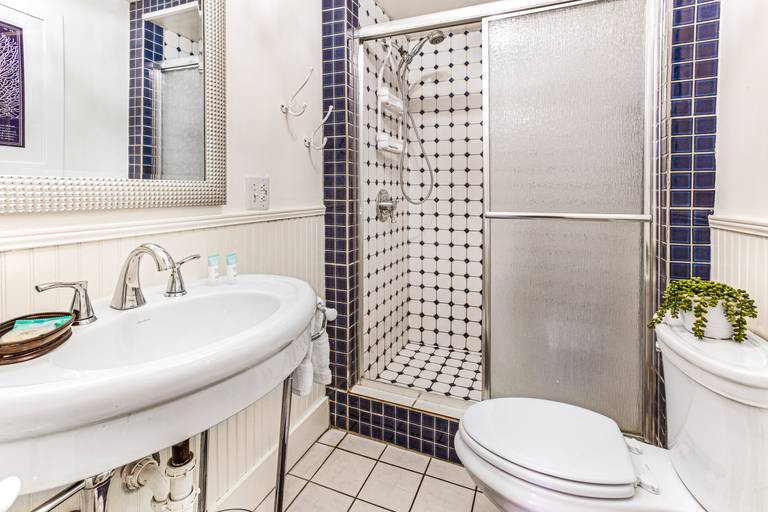 [23]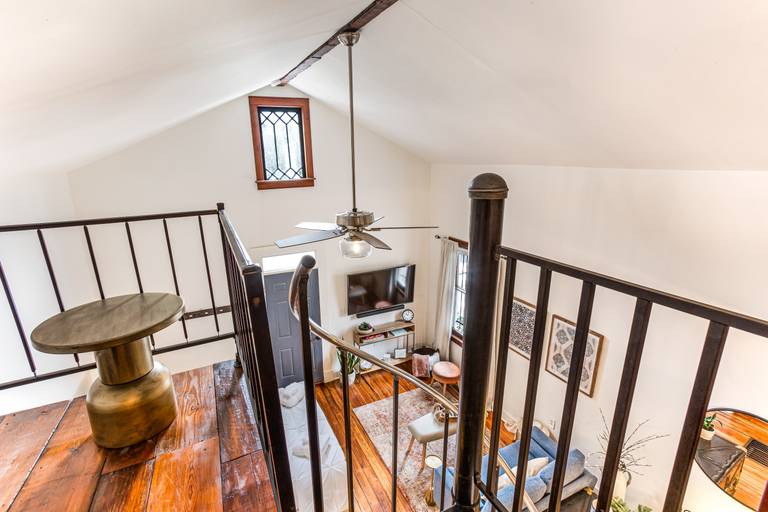 [24]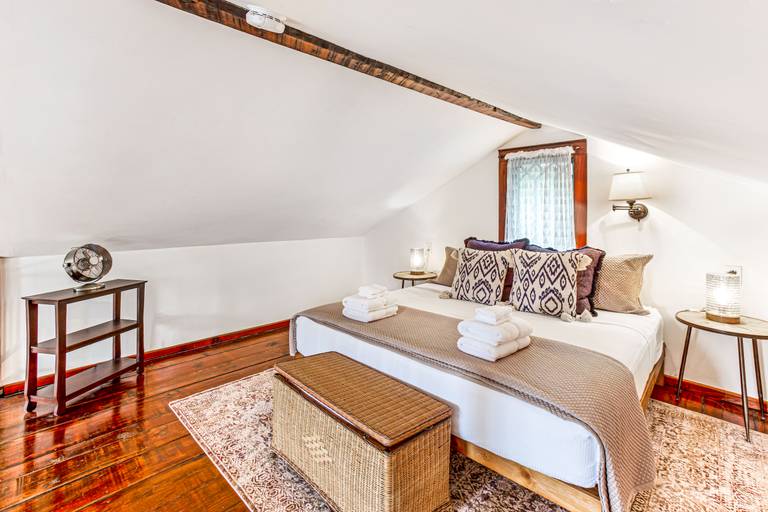 [25]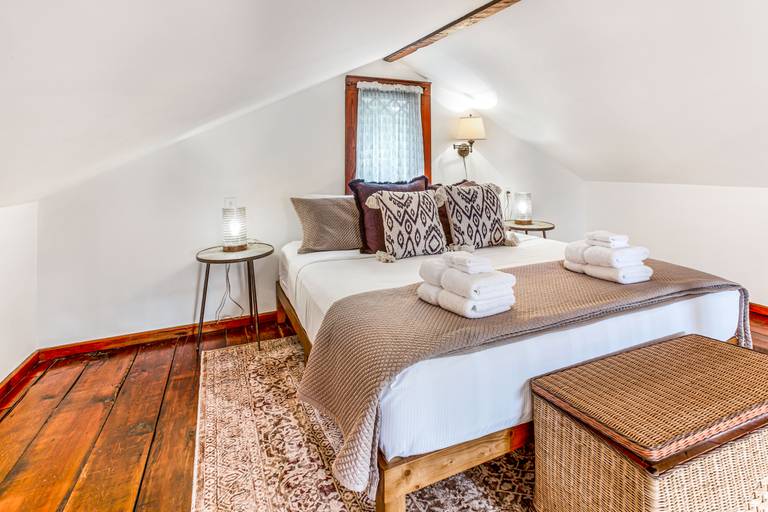 [26]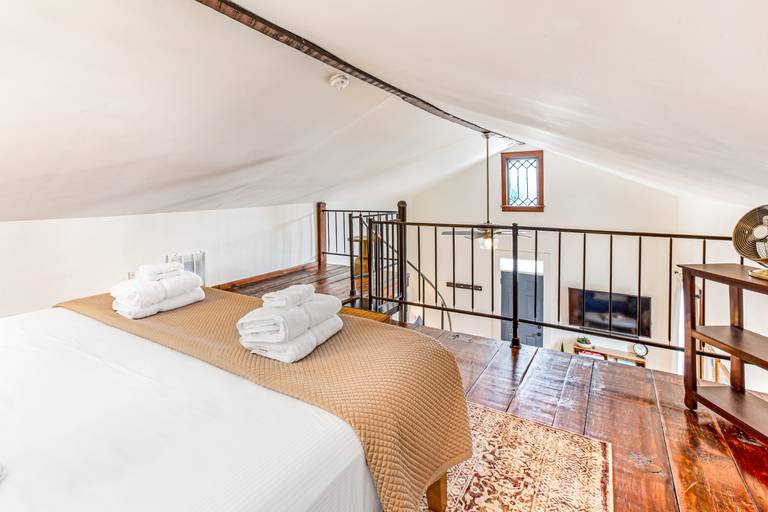 [27]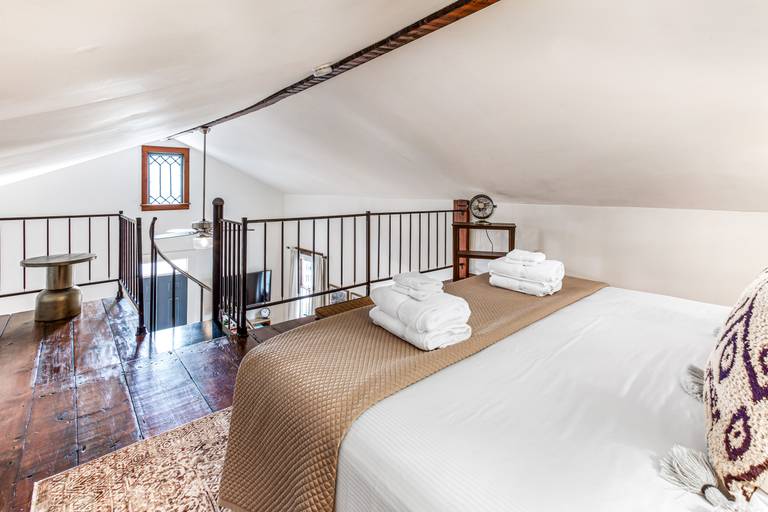 [28]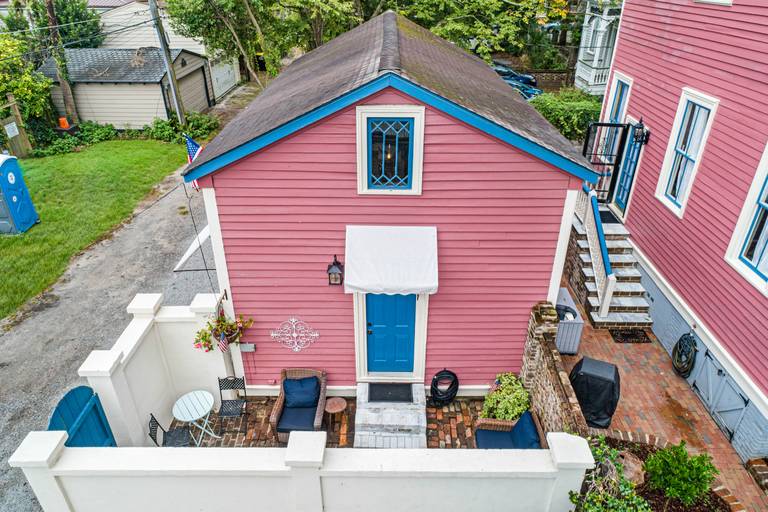 [29]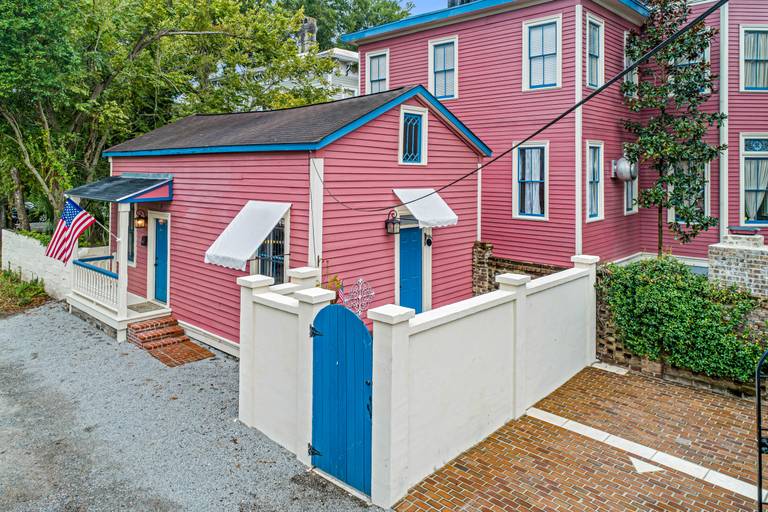 [30]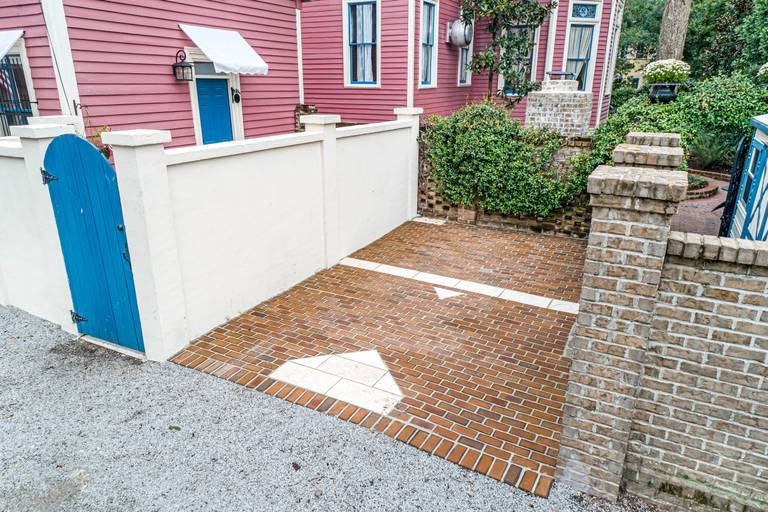 [31]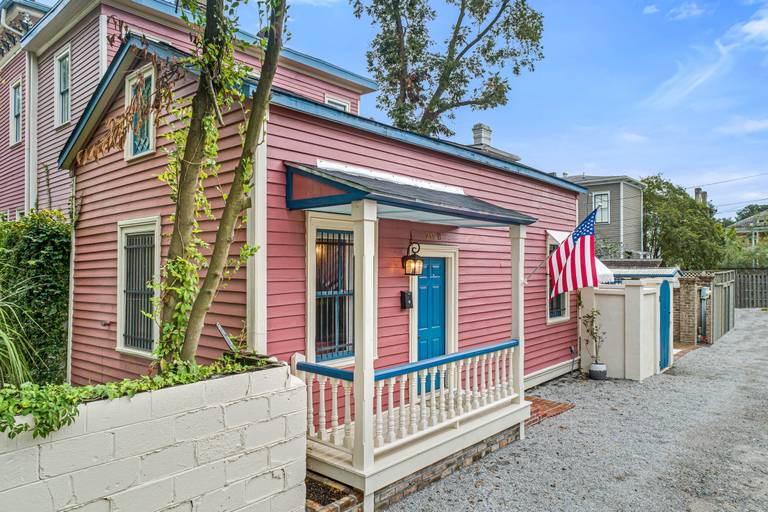 [32]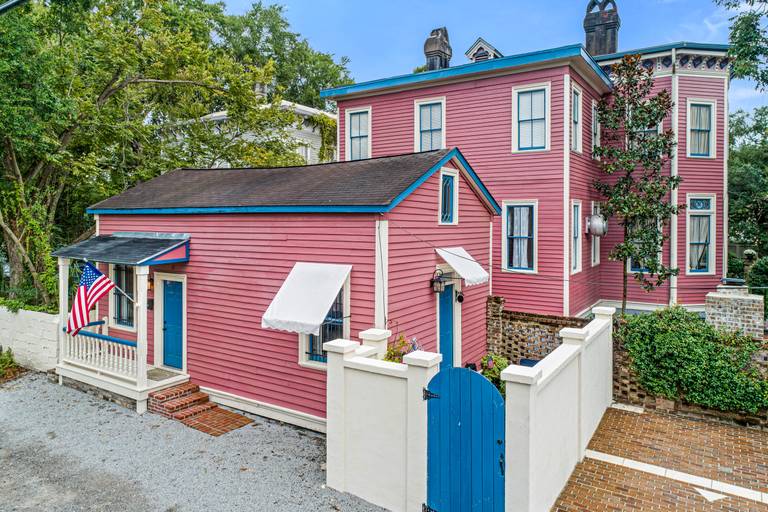 [33]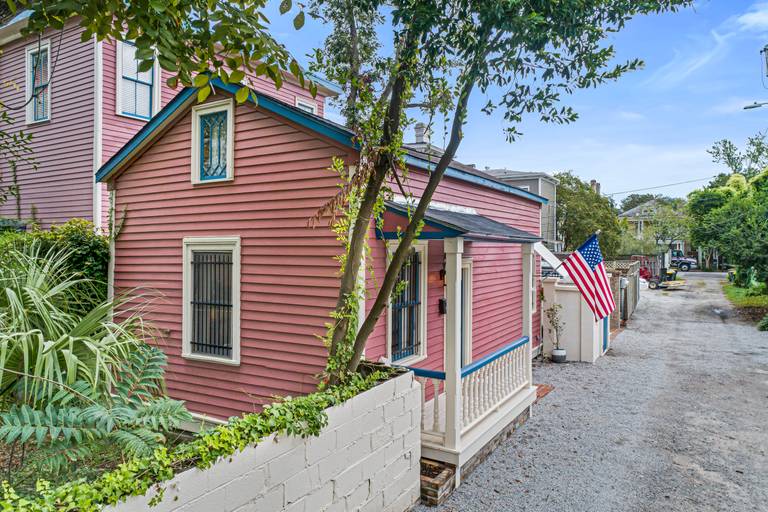 [34]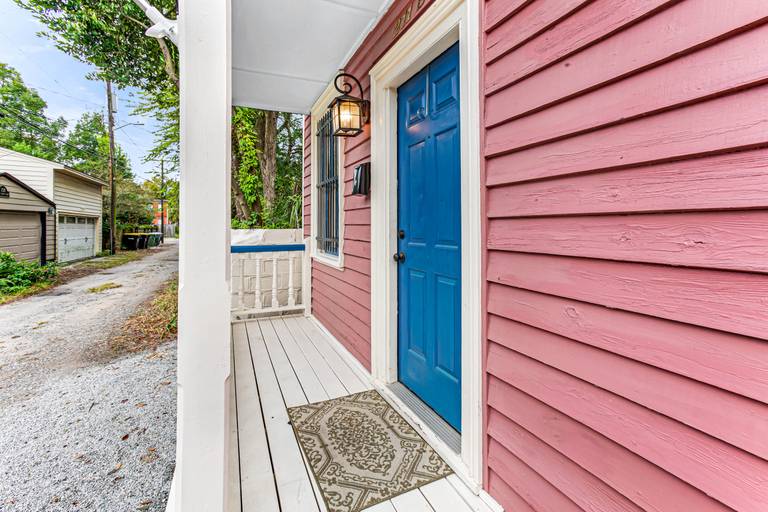 [35]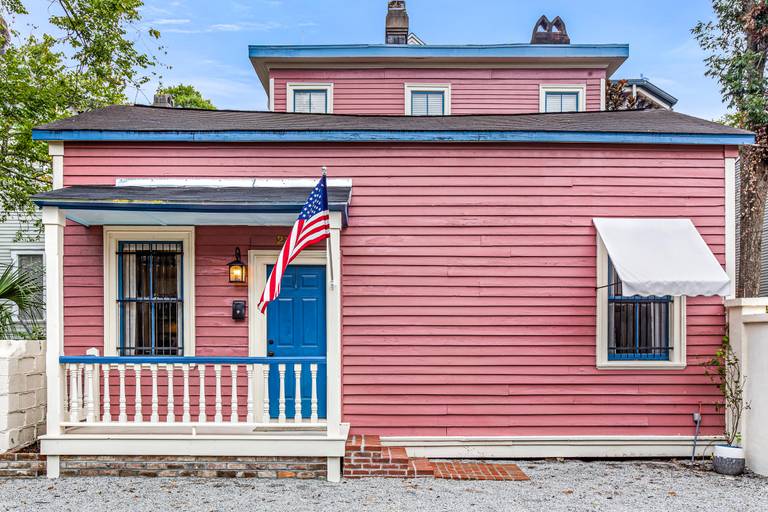 [36]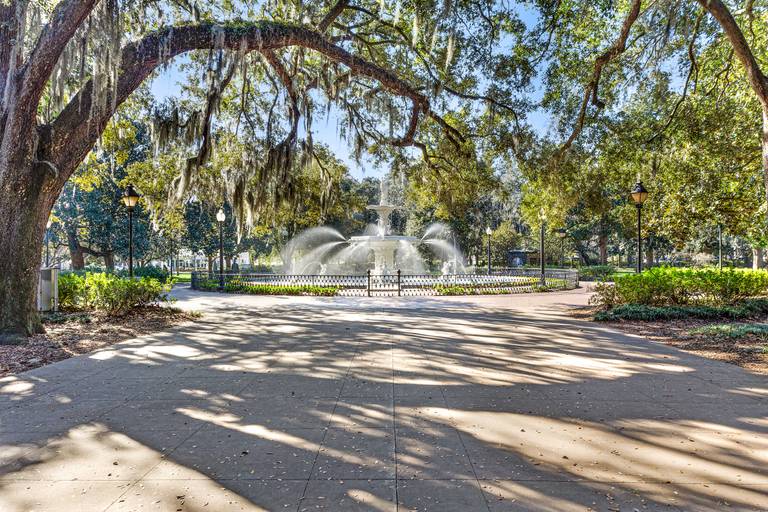 [37]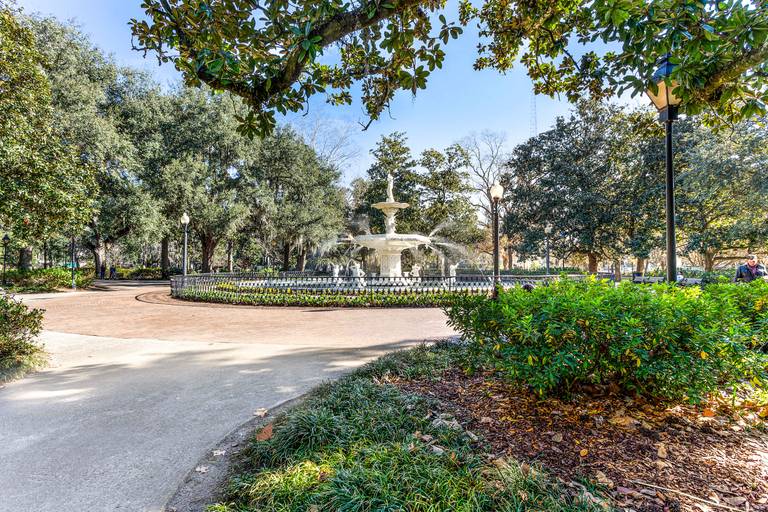 [38]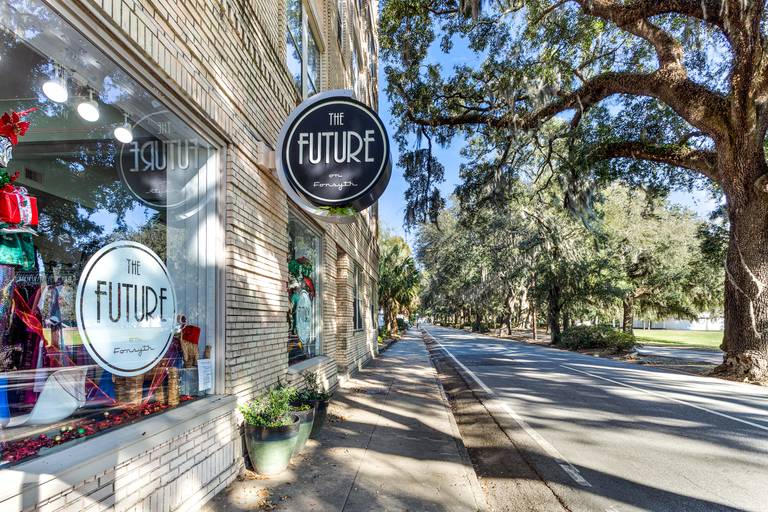 [39]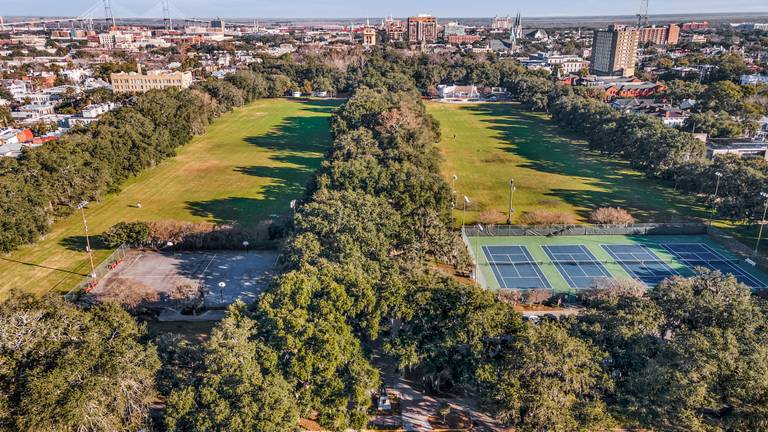 [40]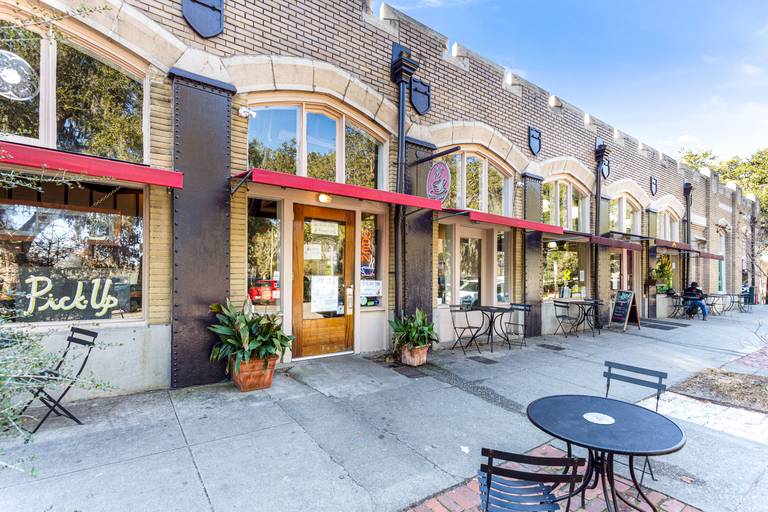 [41]
1 Bedroom
1 Bath
Courtyard
Deck/Balcony
Pet Friendly
Private Parking
Enhanced Housekeeping re: COVID-19: The health and safety of our owners, guests and staff is of utmost importance to us. We are taking extra precautions and steps to ensure that all professional housekeeping and interior property sanitation needs are not only being met, but exceeded, to ensure a hygienic environment. Specific enhanced steps taken include more commercial antibacterial cleaning products, staff wearing facial protection and gloves when in the homes, more frequent deep cleans, and continuation of our professional hospitality grade linen laundering services.
This hidden gem is positioned downtown in the heart of Savannah's West Victorian District, featuring stylish and chic furnishings. Cooper Cottage has been tastefully restored to showcase its original architectural features, dating back to 1884. This one-of-a-kind Savannah vacation rental comfortably accommodates up to four people and features on-premise parking and a peaceful private patio.
Park your car, and step inside your new home away from home! Upon stepping inside you'll immediately take notice of the stunning cathedral ceilings, and original windows that create an inviting and airy atmosphere throughout the entire cottage. The original gleaming hardwood flooring used in the living area makes the space warm and comforting, which is also open to the kitchen, so you'll never miss a beat of the conversation. The Scandinavian style kitchen is equipped with all of the modern conveniences you need to prepare a home cooked meal. Gather together at the chic dining room table or the secluded garden patio, with comfortable wicker furniture.
The full bath has a spacious walk-in shower and is located just next to the laundry area, on the ground level of the cottage. The first set of sleeping accommodations on this level features a comfortable queen-size bed. Enjoy being able to utilize the living room TV, and watch your favorite shows from the comfort of your bed! The loft is located upstairs, and has a queen sized bed you can relax into after a busy day of exploring.
Whether you are here for a short or extended stay, enjoy the modern amenities of home while experiencing historic Savannah, including a washer/dryer, high-speed wifi, and a free, on-site parking space. Nestled on West Gwinnett Lane, and conveniently located within walking distance to shops, restaurants, coffee shops and other points of interest.
Sleeping Configuration:
Living Room: Queen Size Bed
Upstairs Loft: Queen Size Bed
What is parking like for this home?
Guests can enjoy the one private space located adjacent to the home.
We can welcome your dog companions at this pet friendly home, but ask that you find other arrangements for cats, birds, and other furry friends. There is a $130 pet fee (non-refundable) with a 35 lb. maximum weight limit per dog and a limit of 2 dogs per reservation. Some homes may allow larger dogs, please inquire for more information.
SVR-02439
Dates
Price
07/03/2022 - 07/07/2022

$500

/nt

07/03/2022 - 07/07/2022

$120

/nt

07/10/2022 - 07/14/2022

$120

/nt

07/10/2022 - 07/14/2022

$500

/nt

07/17/2022 - 07/21/2022

$500

/nt

07/17/2022 - 07/21/2022

$120

/nt

07/24/2022 - 07/28/2022

$120

/nt

07/24/2022 - 07/28/2022

$500

/nt

07/31/2022 - 08/04/2022

$120

/nt

07/31/2022 - 08/04/2022

$500

/nt

08/07/2022 - 08/11/2022

$120

/nt

08/07/2022 - 08/11/2022

$500

/nt

08/14/2022 - 08/18/2022

$120

/nt

08/14/2022 - 08/18/2022

$500

/nt

08/21/2022 - 08/25/2022

$120

/nt

08/21/2022 - 08/25/2022

$500

/nt

08/28/2022 - 09/01/2022

$500

/nt

08/28/2022 - 09/01/2022

$120

/nt

09/04/2022 - 09/08/2022

$500

/nt

09/04/2022 - 09/08/2022

$120

/nt

09/11/2022 - 09/15/2022

$500

/nt

09/11/2022 - 09/15/2022

$120

/nt

09/18/2022 - 09/22/2022

$500

/nt

09/18/2022 - 09/22/2022

$120

/nt

09/25/2022 - 09/29/2022

$120

/nt

09/25/2022 - 09/29/2022

$500

/nt

10/02/2022 - 10/06/2022

$500

/nt

10/02/2022 - 10/06/2022

$120

/nt

10/09/2022 - 10/13/2022

$500

/nt

10/09/2022 - 10/13/2022

$120

/nt

10/16/2022 - 10/20/2022

$120

/nt

10/16/2022 - 10/20/2022

$500

/nt

10/23/2022 - 10/27/2022

$120

/nt

10/23/2022 - 10/27/2022

$500

/nt

10/30/2022 - 11/03/2022

$120

/nt

10/30/2022 - 11/03/2022

$500

/nt

11/06/2022 - 11/10/2022

$120

/nt

11/06/2022 - 11/10/2022

$500

/nt

11/13/2022 - 11/17/2022

$500

/nt

11/13/2022 - 11/17/2022

$120

/nt

11/20/2022 - 11/24/2022

$500

/nt

11/20/2022 - 11/24/2022

$120

/nt

11/27/2022 - 12/01/2022

$120

/nt

11/27/2022 - 12/01/2022

$500

/nt

12/04/2022 - 12/08/2022

$500

/nt

12/04/2022 - 12/08/2022

$120

/nt

12/11/2022 - 12/15/2022

$500

/nt

12/11/2022 - 12/15/2022

$120

/nt

12/18/2022 - 12/22/2022

$500

/nt

12/18/2022 - 12/22/2022

$120

/nt

12/25/2022 - 12/29/2022

$120

/nt

12/25/2022 - 12/29/2022

$500

/nt

01/01/2023 - 01/05/2023

$500

/nt

01/01/2023 - 01/05/2023

$120

/nt

01/08/2023 - 01/12/2023

$120

/nt

01/08/2023 - 01/12/2023

$500

/nt

01/15/2023 - 01/19/2023

$120

/nt

01/15/2023 - 01/19/2023

$500

/nt

01/22/2023 - 01/26/2023

$120

/nt

01/22/2023 - 01/26/2023

$500

/nt

01/29/2023 - 02/02/2023

$120

/nt

01/29/2023 - 02/02/2023

$500

/nt

02/05/2023 - 02/09/2023

$500

/nt

02/05/2023 - 02/09/2023

$120

/nt

02/12/2023 - 02/16/2023

$120

/nt

02/12/2023 - 02/16/2023

$500

/nt

02/19/2023 - 02/23/2023

$120

/nt

02/19/2023 - 02/23/2023

$500

/nt

02/26/2023 - 03/02/2023

$120

/nt

02/26/2023 - 03/02/2023

$500

/nt

03/05/2023 - 03/09/2023

$120

/nt

03/05/2023 - 03/09/2023

$500

/nt

03/12/2023 - 03/16/2023

$500

/nt

03/12/2023 - 03/16/2023

$120

/nt

03/19/2023 - 03/23/2023

$500

/nt

03/19/2023 - 03/23/2023

$120

/nt

03/26/2023 - 03/30/2023

$500

/nt

03/26/2023 - 03/30/2023

$120

/nt

04/02/2023 - 04/06/2023

$120

/nt

04/02/2023 - 04/06/2023

$500

/nt

04/09/2023 - 04/13/2023

$120

/nt

04/09/2023 - 04/13/2023

$500

/nt

04/16/2023 - 04/20/2023

$120

/nt

04/16/2023 - 04/20/2023

$500

/nt

04/23/2023 - 04/27/2023

$120

/nt

04/23/2023 - 04/27/2023

$500

/nt

04/30/2023 - 05/04/2023

$120

/nt

04/30/2023 - 05/04/2023

$500

/nt

05/07/2023 - 05/11/2023

$500

/nt

05/07/2023 - 05/11/2023

$120

/nt

05/14/2023 - 05/18/2023

$500

/nt

05/14/2023 - 05/18/2023

$120

/nt

05/21/2023 - 05/25/2023

$500

/nt

05/21/2023 - 05/25/2023

$120

/nt

05/28/2023 - 06/01/2023

$500

/nt

05/28/2023 - 06/01/2023

$120

/nt

06/04/2023 - 06/08/2023

$120

/nt

06/04/2023 - 06/08/2023

$500

/nt

06/11/2023 - 06/15/2023

$500

/nt

06/11/2023 - 06/15/2023

$120

/nt

06/18/2023 - 06/22/2023

$500

/nt

06/18/2023 - 06/22/2023

$120

/nt

06/25/2023 - 06/29/2023

$120

/nt

06/25/2023 - 06/29/2023

$500

/nt

07/02/2023 - 07/06/2023

$120

/nt

07/02/2023 - 07/06/2023

$500

/nt

07/09/2023 - 07/13/2023

$120

/nt

07/09/2023 - 07/13/2023

$500

/nt

07/16/2023 - 07/20/2023

$500

/nt

07/16/2023 - 07/20/2023

$120

/nt

07/23/2023 - 07/27/2023

$500

/nt

07/23/2023 - 07/27/2023

$120

/nt

07/30/2023 - 08/03/2023

$500

/nt

07/30/2023 - 08/03/2023

$120

/nt

08/06/2023 - 08/10/2023

$500

/nt

08/06/2023 - 08/10/2023

$120

/nt

08/13/2023 - 08/17/2023

$500

/nt

08/13/2023 - 08/17/2023

$120

/nt

08/20/2023 - 08/24/2023

$500

/nt

08/20/2023 - 08/24/2023

$120

/nt

08/27/2023 - 08/31/2023

$500

/nt

08/27/2023 - 08/31/2023

$120

/nt

09/03/2023 - 09/07/2023

$500

/nt

09/03/2023 - 09/07/2023

$120

/nt

09/10/2023 - 09/14/2023

$120

/nt

09/10/2023 - 09/14/2023

$500

/nt

09/17/2023 - 09/21/2023

$120

/nt

09/17/2023 - 09/21/2023

$500

/nt

09/24/2023 - 09/28/2023

$500

/nt

09/24/2023 - 09/28/2023

$120

/nt

10/01/2023 - 10/05/2023

$120

/nt

10/01/2023 - 10/05/2023

$500

/nt

10/08/2023 - 10/12/2023

$500

/nt

10/08/2023 - 10/12/2023

$120

/nt

10/15/2023 - 10/19/2023

$500

/nt

10/15/2023 - 10/19/2023

$120

/nt

10/22/2023 - 10/26/2023

$500

/nt

10/22/2023 - 10/26/2023

$120

/nt

10/29/2023 - 11/02/2023

$500

/nt

10/29/2023 - 11/02/2023

$120

/nt

11/05/2023 - 11/09/2023

$500

/nt

11/05/2023 - 11/09/2023

$120

/nt

11/12/2023 - 11/16/2023

$500

/nt

11/12/2023 - 11/16/2023

$120

/nt

11/19/2023 - 11/23/2023

$500

/nt

11/19/2023 - 11/23/2023

$120

/nt

11/26/2023 - 11/30/2023

$500

/nt

11/26/2023 - 11/30/2023

$120

/nt

12/03/2023 - 12/07/2023

$500

/nt

12/03/2023 - 12/07/2023

$120

/nt

12/10/2023 - 12/14/2023

$500

/nt

12/10/2023 - 12/14/2023

$120

/nt

12/17/2023 - 12/21/2023

$120

/nt

12/17/2023 - 12/21/2023

$500

/nt

12/24/2023 - 12/28/2023

$500

/nt

12/24/2023 - 12/28/2023

$120

/nt

12/31/2023 - 01/04/2024

$120

/nt

12/31/2023 - 01/04/2024

$500

/nt

01/07/2024 - 01/11/2024

$120

/nt

01/07/2024 - 01/11/2024

$500

/nt

01/14/2024 - 01/18/2024

$120

/nt

01/14/2024 - 01/18/2024

$500

/nt

01/21/2024 - 01/25/2024

$120

/nt

01/21/2024 - 01/25/2024

$500

/nt

01/28/2024 - 02/01/2024

$120

/nt

01/28/2024 - 02/01/2024

$500

/nt

02/04/2024 - 02/08/2024

$120

/nt

02/04/2024 - 02/08/2024

$500

/nt

02/11/2024 - 02/15/2024

$120

/nt

02/11/2024 - 02/15/2024

$500

/nt

02/18/2024 - 02/22/2024

$500

/nt

02/18/2024 - 02/22/2024

$120

/nt

02/25/2024 - 02/29/2024

$500

/nt

02/25/2024 - 02/29/2024

$120

/nt

03/03/2024 - 03/07/2024

$500

/nt

03/03/2024 - 03/07/2024

$120

/nt

03/10/2024 - 03/14/2024

$500

/nt

03/10/2024 - 03/14/2024

$120

/nt

03/17/2024 - 03/21/2024

$500

/nt

03/17/2024 - 03/21/2024

$120

/nt

03/24/2024 - 03/28/2024

$500

/nt

03/24/2024 - 03/28/2024

$120

/nt

01/01/2022 - 12/31/2026

$120

/nt

01/01/2022 - 12/31/2026

$500

/nt

01/01/2022 - 12/31/2026

$1,206

/wk

01/01/2022 - 12/31/2026

$3,500

/wk

01/01/2022 - 12/31/2026

$6,007

/month

01/01/2022 - 12/31/2026

$14,230

/month